THE D'OYLY CARTE OPERA COMPANY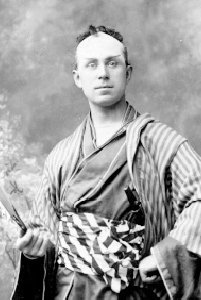 Charles Kenningham as Nanki-Poo in The Mikado
Charles Kenningham (1891, 1892-94, 1895-98)
[Born Hull 18 Nov 1860, died Australia 24 Oct 1925]
Charles Kenningham was a boy soprano in his native Hull, where he later taught music. He also sang at St. Paul's and Canterbury Cathedrals. While at St. Paul's he made what was likely his London Stage debut as Duvalor (a brave man) in the first performance of Haydn Millars' operetta Mariette's Wedding (Adelphi, September 31, 1882). Later he created the role of Maurice de Bracy in Sullivan's Ivanhoe at the Royal English Opera House on January 31, 1891. Kenningham played de Bracy for the duration of the run (until July 31, 1891), then in August joined D'Oyly Carte's Opera Company "D" on tour, as Indru in The Nautch Girl. He returned to London, spelling Courtice Pounds as Indru at the Savoy in October 1891, before returning to the Royal English Opera House as Jeban D'Eveille in La Basoche (November 1891-January 1892) and de Bracy in Ivanhoe (six performances in November-December 1891).
In March 1892 Kenningham rejoined Carte's Company "D":this time as Reverend Harry Sandford in The Vicar of Bray. In September 1892 he returned to the Savoy where he created the parts of Oswald in Haddon Hall (September 1892-April 1893), Tom in Jane Annie (May-September 1893, including a tour), and Captain Fitzbattleaxe in Utopia Limited (October 1893-June 1893).
In July 1894 Courtice Pounds returned to the Savoy to take the tenor lead in Mirette. Kenningham went on tour with Company "D" again, as Fitzbattleaxe, from July until October 1894, when he left the D'Oyly Carte to create the part of Erling in W. S. Gilbert & Osmond Carr's "His Excellency" at the Lyric (October 1894-April 1895). In July 1895 Kenningham was rejoined the D'Oyly Carte organization, touring with Company "D" until October as Cyril in Princess Ida, Fitzbattleaxe in Utopia Limited, and Count Vasquez in The Chieftain.
On November 6, 1895, he was back at the Savoy as Nanki-Poo in The Mikado, a revival that lasted until March 1896, when he created the part of Ernest Dummkopf in The Grand Duke (March-July 1896). He remained at the Savoy until May 1898, appearing successively as Nanki-Poo again (July 1896-February 1897), Prince Max in His Majesty (February-April 1897), Colonel Fairfax in The Yeomen of the Guard (May-November 1897), Fritz in The Grand Duchess of Gerolstein (December 1897-March 1898), and Marco in The Gondoliers (March-May 1898).
He then left for Australia and an engagement with the J. C. Williamson Ltd. organization, appearing that year as Colonel Fairfax in The Yeomen of the Guard (Her Majesty's Theatre, Sydney, August 20, 1898). He would also appear down under in H.M.S. Pinafore (Sydney and Melbourne, 1900, and Melbourne 1906), The Pirates of Penzance (Sydney, 1900), The Sorcerer (Sydney, 1905), Patience (Sydney, 1904), Iolanthe (Sydney, 1899, 1900, and 1905), Princess Ida (Sydney, 1905), The Mikado (Sydney, 1905), The Gondoliers (Sydney, 1900, and Melbourne 1905), and Utopia Limited (Melbourne and Wellington, New Zealand, 1906).
Kenningham was also a minor composer who had a number of songs published in the 1890s.
---
K Index | "Who Was Who" Homepage
---