THE D'OYLY CARTE OPERA COMPANY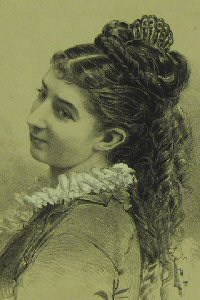 Pattie Laverne
Pattie Laverne (1876)
[Born London, died 24 Apr 1916
Pattie Laverne first appeared before the public as a concert singer at the Hanover Square Rooms. She went on to sing in both concert and oratorio at St. James's Hall in London and the Free Trade Hall in Manchester. Her first appearance on stage was at Preston, as the title character in Offenbach's opera The Grand Duchess of Gerolstein with John Russell's Company in Lancashire in 1871.
In 1872, Miss Laverne became a member of the Opera Comique Company in London. There she took principal roles in L'Oeil Crêvè, The Bohemians, and Kissi-Kissi in 1872-73, and Clairette in Lecocq's La Fille de Madame Angot the following season.
She was a principal soprano with Mr. D'Oyly Carte's Opera Bouffe Company playing Carte's own Happy Hampstead, and La Fille de Madame Angot, on tour from June to August 1876. Earlier that year she had appeared as Trainette in London in Procida Bucalossi's comic opera Pom (Royalty, March-April 1876), and later that year took the title role in Alfred Cellier's Nell Gwynne (Prince's Theatre, Manchester, October-November 1876). She appeared on tour as Boulette in Barbe Bleue in 1877.
---
L Index | "Who Was Who" Homepage
---