THE D'OYLY CARTE OPERA COMPANY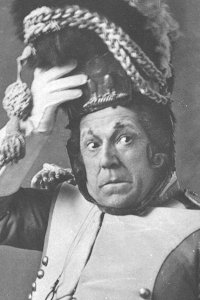 John Le Hay as Coquenard in Veronique
John Le Hay (1879-83, 1891, 1891-92, 1893-94)sss
[Born Dublin 25 Mar 1854, died London 2 Nov 1926]
John Le Hay, real name John Healy, made his first stage appearance as an amateur at the King's Cross Theatre. He next traveled with a minstrel troupe, where his gift for ventriloquism was soon evident. He was shortly engaged by Edgar Bruce in 1879 for the Royalty Theatre, where he worked as an understudy and appeared in the chorus of a revival of Stephenson and Sullivan's The Zoo.
Later that year he joined Mr. D'Oyly Carte's "2nd Pinafore" Company, again serving in the chorus on tour. Le Hay then appeared in the single copyright performance of The Pirates of Penzance in Paignton on December 30, 1879, as the James, a pirate who had been written out of the libretto by the time the opera opened in New York the next day. During 1880 he also appeared as Mr. Liverby in In the Sulks, and as Benjamin Walker in Four by Honours, the curtain raisers that accompanied H.M.S. Pinafore at various points.
"2nd Pinafore" was redesignated as "A" Company in August 1880, then as "B" Company in March 1881. It was around this time that Le Hay switched roles in In the Sulks, swapping Mr. Liverby for Joseph. In August 1881 Le Hay gave up his small part in In the Sulks to become principal comedian, touring as J. W. Wells in The Sorcerer (until November), Sir Joseph Porter in H.M.S. Pinafore, and (from November forward) Major General Stanley in The Pirates of Penzance for the rest of the year, with the exception of a brief spell in September when he reverted to tenor and appeared as Ralph Rackstraw in Pinafore.
Le Hay toured as Sir Joseph and General Stanley with "B" Company (later Mr. D'Oyly Carte "Pinafore" and "Pirates" Company) throughout 1882 and 1883, leaving the Carte organization in September 1883 when the Company was disbanded. It appears he also filled in as Frederic in Pirates on an emergency basis on one occasion in February 1882.
Le Hay next spent a season in pantomime, worked as low comedian with Cooper Cole's Strand Company, then took an extended engagement with Edward Terry. In 1886 he created the part of Tom Strutt in Alfred Cellier's Dorothy at the Gaiety. Subsequent comic opera roles included Crook in Doris (Lyric, 1889), Private Smith in The Red Hussar (Lyric, 1889), Jacob in The Red Rover (Globe, 1890), Prince Bulbo in The Rose and the Ring (Prince of Wales's, 1890), and Sir Guy of Gisborne in Maid Marian (Prince of Wales's, March 1891).
In August-September 1891 Le Hay was back in the D'Oyly Carte fold, appearing as Punka in The Nautch Girl on tour with Carte's Company "D." He then transferred to the Royal English Opera House where he appeared as Master Guillot in La Basoche in November and December. From December 1891 to February 1892 he toured again as Punka, this time with Carte's Company "B." He then left the D'Oyly Carte organization again.
From September to November 1892 he appeared at the Trafalgar Square in a comic opera called The Wedding Eve, and in April and May 1893 he was in a drama called The Black Domino at the Adelphi, where he also performed "An Entertainment" of his own creation.
He returned to the D'Oyly Carte for the last time in October 1893, creating the part of Phantis in the first production of Utopia (Limited) at the Savoy, playing the role through the run until June 1894.
In September 1894 he appeared at the Lyceum with Lillian Russell in The Queen of Brilliants, and in October of that year created the part of Mats Munck in Gilbert & Carr's "His Excellency" at the Lyric. He would later play the same part at the Broadway Theatre, New York, with George Edwardes's London Lyric Company. He would also appear in New York as Hassan in Hood & Sullivan's The Rose of Persia (Daly's, September 1900), a production sanctioned by D'Oyly Carte.
Le Hay's stage career would extend well into the 20th century. He toured America three times in comic opera and South Africa, too (for eighteen months). His talents as a ventriloquist were such that he appeared on several occasions before King Edward, both at Buckingham Palace and at Sandringham.
On November 1, 1926, John Le Hay was struck by a motor vehicle in the road near his home after leaving the Lyceum Theatre, London, where he had been appearing as Florent, the butler, in The Padre. He died the next day in a hospital from shock following surgery. He was married to fellow D'Oyly Carte artist Marian May.
---
L Index | "Who Was Who" Homepage
---