THE D'OYLY CARTE OPERA COMPANY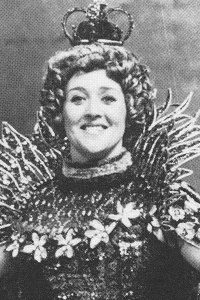 Patricia Leonard as the Queen of the Fairies in Iolanthe
Patricia Leonard (1972-82)
[Born Stoke-on-Trent c.1943, died 28 Jan 2010]
Patricia Leonard began her career in as a concert and oratorio singer before joining the D'Oyly Carte Opera Company chorus in September 1972. During the 1972-73 season she filled in on occasion for Pauline Wales as Edith in The Pirates of Penzance. In July 1973 she assumed the small parts of Leila in Iolanthe, Peep-Bo in The Mikado, and Vittoria in The Gondoliers; then when Miss Wales left in February 1973 Patricia Leonard took over Hebe in H.M.S. Pinafore, Edith, and the Lady Saphir in Patience. She also filled in on occasion in the 1973-74 season as Mrs. Partlett in The Sorcerer and Tessa in The Gondoliers.
Her regular roles in 1974-75 were Hebe, Edith, Saphir, Leila, Peep-Bo, and Vittoria. In April 1975 she was Elsa in the D'Oyly Carte Centenary concert production of The Grand Duke, and in September 1975 added Mad Margaret in Ruddigore. She also filled in from time to time (1974-77) as Mrs. Partlett, Iolanthe in Iolanthe, Mad Margaret (before taking over the part), Phoebe Meryll in The Yeomen of the Guard, and Tessa.
In July 1977 she took her first principal contralto role:the Queen of the Fairies in the new (silver) production of Iolanthe at Sadler's Wells Theatre. For the next five seasons, from August 1977 until the final night of the D'Oyly Carte Opera Company on February 27, 1982, Miss Leonard was the Company's leading contralto replacing the departed Lyndsie Holland. She appeared as Lady Sangazure in The Sorcerer, Little Buttercup in Pinafore, Ruth in The Pirates of Penzance, Lady Jane in Patience, the Fairy Queen, Lady Blanche in Princess Ida, Katisha in The Mikado, Dame Hannah in Ruddigore, Dame Carruthers in The Yeomen of the Guard, and the Duchess of Plaza-Toro in The Gondoliers. (She also filled in on an emergency basis as Iolanthe in December 1977.)
During her tenure with the Company she recorded Leila (1973 Iolanthe), Elsa (1976 Grand Duke), and Dame Carruthers (1979 Yeomen), and appeared on the "Last Night" recording. She may be seen in a concert video "Gilbert & Sullivan's Greatest Hits" made at Royal Albert Hall in 1982.
Post-D'Oyly Carte Gilbert & Sullivan appearances include the Duchess in Gondoliers at Nottingham Playhouse, Katisha in Mikado with New Sadler's Wells Opera, seven seasons in leading contralto parts at Gawsworth Hall, and three operas (Mikado, Pinafore, and Pirates) in Norway. She also returned to the concert and oratorio platform, performing at Royal Albert Hall, Royal Festival Hall, the Barbican, Birmingham Symphony Hall, and St. David's Hall in Cardiff. Concert work included "Mr. Gilbert and Mr. Sullivan" (with Richard Baker). She and her husband, former D'Oyly Carte bass-baritone Michael Buchan, participated in several G&S Festival productions in Buxton and elsewhere.
---
L Index | "Who Was Who" Homepage
---