THE D'OYLY CARTE OPERA COMPANY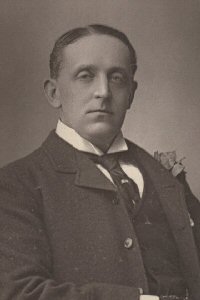 Eric Lewis
Eric Lewis (1882-87)
[Born Northampton 23 Oct 1855, died Margate, Kent 1 Apr 1935]
Born Fred Eric Lewis Tuffley, Eric Lewis made his first appearances as an entertainer in 1879 at St. James's Hall, Brighton, in musical sketches with Arthur Law and Fanny Holland. His London debut as an entertainer was at the Polytechnic in December 1880, and his first stage appearance followed in 1881 as Pilate Pump in Blue and Buff at the Haymarket. He toured with the Alice Barth Opera Company in 1882 and, later that year was engaged by D'Oyly Carte at the Savoy.
From December 1882 to January 1887 he served as George Grossmith's understudy. Grossmith was rarely off, however, and Lewis's only opportunity to replace him as principal comedian came in August-September 1886 when he filled in as Ko-Ko during the first run of The Mikado. He also had a brief turn as Florian in Princess Ida, filling in briefly for Charles Ryley (August 1884). For the most part, however, Lewis had to satisfy himself with parts in the one-act curtain raisers that frequently preceded the full-length operas. His roles in these were Mr. Wranglesbury in Mock Turtles (December 1882-March 1883), Napolean Fitz-Stubbs in A Private Wire (March 1883-January 1884), the Counsel to the Plaintiff in Trial by Jury (October 1884-March 1885), and Piscator in The Carp (February 1886-January 1887).
He left the D'Oyly Carte in January, appearing next at the Royalty in April 1887 in Ivy with Willie Edouin. His first big success on the lyric stage would come as the Duke of Fayensburg in La Cigale (Lyric, October 1890-December 1891). After a few more successes in the musical theatre (notably A Gaiety Girl at the Gaiety and An Artist's Model at Daly's), he found his true calling in straight comedy, devoting himself to the legitimate stage for the rest of his career. He was a regular on the London Stage until 1925, best known for his work in the contemporary comedies of Pinero, Shaw, Barrie, and R. C. Carton.
His unique style was remembered by The Times (London) when he died in 1935: "Only to think of Eric Lewis in a Eric Lewis part is to chuckle. His comfortable physique, his lovable mannerisms, his worried look, his affectation of aggrieved pomposity, his ludicrous vocal shades ranging from mellow nonchalance to shrill querulousness, above all, his wonderful rolling eyes:all these characteristics exuded unctuousness, and even in the recesses of memory provoke the thoughts of laughter."
---
L Index | "Who Was Who" Homepage
---