THE D'OYLY CARTE OPERA COMPANY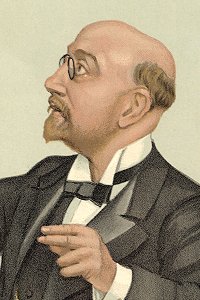 Alexander Mackenzie
Alexander Mackenzie (cond., 1897)
[Born Edinburgh 22 Aug 1847, died London 28 Apr 1935]
Sir Alexander Campbell Mackenzie was widely recognized as the greatest Scottish composer of his day. As a youth he went to Germany to study at the Saunderhausen Conservatory (1857-62), winning the King's Scholarship to the Royal Academy of Music in 1862. In 1865 he returned to his native Edinburgh, where he spent 14 years as violinist, teacher, and choir conductor. In 1879 he went to Florence and devoted himself to composition, until 1888 when he was appointed principal of the Royal Academy of Music, a post he held until 1924. He was knighted in 1895.
Mackenzie's only association with the D'Oyly Carte Opera Company was a composer and first night conductor of His Majesty, a two-act comic opera written by F. C. Burnand, R. C. Lehmann, and Adrian Ross, and produced at the Savoy on February 20, 1897. His Majesty ran for just 61 performances, closing on April 24, 1897. It was also performed by the D'Oyly Carte Opera Company on tour.
Mackenzie wrote five operas in all. In addition to His Majesty, be wrote Columba (1883) and The Troubador (1886) for the Carl Rosa Company, The Cricket on the Hearth (1914), and The Eve of St. John (1925). None enjoyed any lasting popularity, although the overture to The Cricket on the Hearth is among his orchestral works in the Hyperion CD catalogue today. He was also a frequent contributor of oratorios to British music festivals (Norwich, Worcester, Bristol, Edinburgh, and Cardiff).
His memoirs, "A Musician's Narrative," were published by Cassell, London, in 1927.
---
M Index | "Who Was Who" Homepage
---