THE D'OYLY CARTE OPERA COMPANY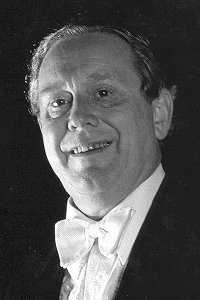 Charles Mackerras
Charles Mackerras (cond., 1975, 1981)
[Born Schenectady, New York 17 Nov 1925, died London 14 Jul 2010]
Alan Charles MacLaurin Mackerras is best known in Gilbert & Sullivan circles as the arranger of the ballet Pineapple Poll. It was Mackerras's idea to create a ballet from the music of the Savoy operas, and as the expiration of the copyright on Sullivan's music approached at the end of 1950, he discussed the idea with Peggy van Praagh of Sadler's Wells Ballet. Miss van Praagh was intrigued, thought such a ballet would make a good item for the 1951 Festival of Britain program, and recommended South African choreographer John Cranko as collaborator. Cranko suggested Gilbert's Bab Ballad "The Bumboat Woman's Story" as a suitable story line, and the resulting ballet, Pineapple Poll, first performed March 13, 1851, has been in the Sadler's Wells repertoire ever since. It has been frequently recorded, usually with Mackerras conducting.
Mackerras's first direct association with the D'Oyly Carte Opera Company was a guest conductor of The Pirates of Penzance and The Mikado for the D'Oyly Carte Centenary season (March-April 1975) at the Savoy. He later joined the D'Oyly Carte Opera Trust as President for Associate Membership in 1979, and, in 1980 assumed a position on the Board of Trustees. Mackerras had at least one more evening as guest conductor, taking the baton for The Pirates of Penzance at the Adelphi on December 23, 1981.
His association with Gilbert & Sullivan apart from D'Oyly Carte included a broadcast of Trial by Jury on Granada Television in 1974, recordings of eight Gilbert & Sullivan operas with the BBC Concert Orchestra in 1989 for BBC 2, and a series of five G&S operas (currently available on the Telarc label) with Welsh National Opera:1992, The Mikado; 1993, The Pirates of Penzance; 1994, H.M.S. Pinafore; and 1995 The Yeomen of the Guard and Trial by Jury. In collaboration with David Mackie he reconstructed Arthur Sullivan's "lost" cello concerto, conducting its first performance by cellist Julian Lloyd Webber and the London Symphony Orchestra at the Barbican Hall, London, in April 1986.
Mackerras worked with countless orchestras and opera companies throughout the world. He was knighted in 1979 for his services to music, and is the subject of a biography "Charles Mackerras: A Musician's Musician" by Nancy Phelan (London, Victor Gollancz, 1987).
---
M Index | "Who Was Who" Homepage
---