THE D'OYLY CARTE OPERA COMPANY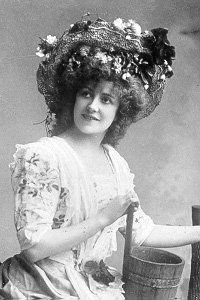 Norah Maguire as Patience in Patience
Norah Maguire (1898-99, 1900-05)
Norah Maguire made her London Stage debut as Marie in La Poupee at the Prince of Wales's Theatre in 1898.
She first appeared with the D'Oyly Carte Opera Company "D" as Winifred in The Vicar of Bray (December 1898-February 1899). When Company "D" took up The Lucky Star in February she appeared first as Lazuli, then as Laoula, but left the tour (and the D'Oyly Carte, temporarily) in July 1899. She returned to London, appearing as Nadine in The Prince of Borneo (Strand, October-November 1899) and as Beryl Forrester in The Past Master (Strand, one performance in December 1899).
By April 1900 she was back on tour with D'Oyly Carte Opera Company "D":this time as "Blush-of-the-Morning" in The Rose of Persia. She took over the same part at the Savoy in May, then returned to the provinces with Company "D" in June, touring as "Blush-of-the-Morning" until the tour ended in December 1900.
In July 1901 Norah Maguire joined the D'Oyly Carte Repertoire Opera Company "C," taking over a number of smaller roles:Isabel in The Pirates of Penzance, Lady Ella in Patience, Leila in Iolanthe, Lady Psyche in Princess Ida, Peep-Bo in The Mikado, Kate in The Yeomen of the Guard, Casilda in The Gondoliers, (probably) "Scent-of-Lilies" in The Rose of Persia, and (for a time) Kate in the curtain raiser The Outpost. She also filled in briefly as Gianetta in The Gondoliers in December 1901 and February 1902.
In April 1902, after Lina Carr left the tour, Norah Maguire moved up to principal soprano, appearing as Mabel in The Pirates of Penzance, Patience in Patience, Phyllis in Iolanthe, Princess Ida in Princess Ida, Yum-Yum in The Mikado, Elsie Maynard in The Yeomen of the Guard, and Gianetta in The Gondoliers. In July 1902 Miss Maguire reverted to Casilda in The Gondoliers. When H.M.S. Pinafore was added to the repertoire in January 1904 she added Josephine to her duties, and in July 1904 swapped Casilda for Gianetta again.
She would appear as Josephine, Mabel, Patience, Phyllis, Ida, Yum-Yum, Elsie, and Gianetta with the (by then) D'Oyly Carte Principal Repertory Opera Company until the autumn of 1905, when Pirates and Princess Ida were dropped. As she would not be going to South Africa with the Company in December, many of her remaining roles were played by other singers during her last month on tour. Norah Maguire left the D'Oyly Carte Opera Company when the tour ended on November 25, 1905.
---
M Index | "Who Was Who" Homepage
---