THE D'OYLY CARTE OPERA COMPANY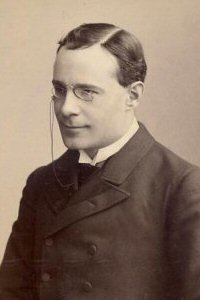 Richard Mansfield
Richard Mansfield (1879-81, 1882, 1886)
[Born Berlin, Prussia 24 May 1857, died New London, Connecticut 30 Aug 1907]
Richard Mansfield spent his early days on Heligoland, an island in the North Sea, then under British sovereignty, but was educated in Derby, England, and studied painting in London. He traveled to America with his mother, but returned to England at age 20 where his work as an artist would not support him. He was more successful as a drawing-room entertainer, and eventually drifted into acting.
He was engaged by D'Oyly Carte in April 1879 to appear as Sir Joseph Porter in H.M.S. Pinafore with the touring Comedy-Opera Company. He would play the leading comedy roles on tour in Britain from April 1879 until February 1881. He was Sir Joseph with the Comedy-Opera Company (April-May 1879), Mr. D'Oyly Carte's "B" Company (July-August 1879), Carte's "2nd 'Pinafore' Company" (August-December 1879 and December 1879-March 1880), and Carte's "A" Company (December 1879, filling in for the ailing W. S. Penley). Mansfield appeared in the single copyright performance of The Pirates of Penzance in Paignton on December 30, 1879, as the Major General Stanley.
From March to December 1880 he toured with Mr. D'Oyly Carte's "D" Company as John Wellington Wells in The Sorcerer and Sir Joseph in Pinafore. When "D" Company took up The Pirates of Penzance in December 1880, Mansfield appeared as General Stanley. He left the tour and the D'Oyly Carte organization in February 1881, returned to London, and eventually made his London debut in Offenbach's La Boulangère (Globe, April 1881).
After several further engagements in London and following the death of his mother in Boston, Mansfield headed for America in 1882, where he made his New York Stage debut as Dromez in a D'Oyly Carte production of Bucalossi's Les Manteaux Noirs (September-October 1882). This was followed by an appearance as Nick Vedder and Jan Vedder in Planquette's Rip Van Winkle (October-November 1882), another Carte production at the Standard Theatre.
Mansfield then went to Philadelphia where he was set to appear as the Lord Chancellor with Carte's Second American Iolanthe Company. He became violently ill a few days before the scheduled opening, however, and was forced to abandon the role to W. H. Seymour. When he recovered he was loaned to another Company, appearing in Baltimore as the Lord Chancellor on December 18, 1882. Two days later, however, he suffered a disabling ankle sprain and had to leave the cast.
Returning to New York, Mansfield then began to focus on the legitimate stage. He achieved his first major success as Baron Chevrial in A Parisian Romance (Union Square, 1883). He would return to Gilbert & Sullivan and the D'Oyly Carte Opera Company one more time, however, appearing with Carte's Second American Mikado Company in Boston as Ko-Ko, from January to March 1886. Mansfield had been called upon when John Howson abruptly left the cast following a dispute with management of his interpretation of the role.
Mansfield was also a theatrical manager, producing Prince Karl and A Parisian Romance in Boston and New York in 1886. He subsequently produced and starred in an adaptation of Robert Lewis Stevenson's Dr. Jekyll and Mr. Hyde, appearing with great success in both New York and London. He also appeared in London at the Lyceum under Henry Irving's management in King Richard III, but it was in America where he achieved his greatest success. He would continue to perform until just a few months before his death from liver cancer in 1907.
It is difficult to overstate his popularity, and the respect and admiration that he commanded. At the time of his death, The New York Times claimed that "As an interpreter of Shakespearehe had no living equal in his later days, as witnessed by the princely grace, the tragic force of his Richard, his thrilling acting in the tent scene of "Caesar," the soldierly dignity and eloquence of his Prince Hal, and the pathos of the prayer in that play.He was the greatest actor of his hour, and one of the greatest of all times."
Mansfield was the subject of two extensive biographies:"Richard Mansfield: The Man and the Actor" by Paul Wilstach (New York, Scribner's, 1908), and "The Life and Art of Richard Mansfield" in two volumes by William Winter (New York, Moffit, Yard & Co., 1910).
---
M Index | "Who Was Who" Homepage
---