THE D'OYLY CARTE OPERA COMPANY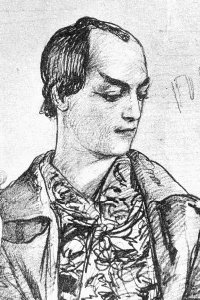 Herbert Marchmont as Pish-Tush in The Mikado
Herbert Marchmont (1885-96, 1898)
[Born Hull, Yorkshire]
Herbert Marchmont was a member of the chorus and understudy during the first run of The Mikado at the Savoy, going on for Frederick Bovill as Pish-Tush in July 1886. From April 1887 to February 1888 he toured Germany, Austria, Holland, and Denmark with a Carte touring company, appearing as Pish-Tush and Bill Bobstay in H.M.S. Pinafore.
Returning to Great Britain, he toured with Mr. D'Oyly Carte's "C" (Repertory) Company from February to December 1888, performing first as Bill Bobstay and Piscator in The Carp (February-June), and Go-To in The Mikado (March-June), while filling in briefly in April as Captain Corcoran in Pinafore. From July to October 1888 he shared Samuel in The Pirates of Penzance and Pish-Tush with W. H. Montgomery, and from November 1 to December 31, 1888, was First Yeoman in Carte's first provincial production of The Yeomen of the Guard.
In January 1889 he joined the newly-formed D'Oyly Carte Opera Company "B" as Sergeant Meryll in Yeomen. When The Mikado joined the Company "B" tour in December 1889, Marchmont took up Pish-Tush again. The Mikado was dropped in March 1890 in favor of The Gondoliers, Marchmont as Luiz, and Yeomen was abandoned temporarily in April. The Gondoliers toured exclusively until December 1890, when Yeomen returned, this time with Marchmont as the Lieutenant of the Tower. He toured as Luiz and the Lieutenant until June 1892.
His next appearance in a D'Oyly Carte program was in November 1892 with D'Oyly Carte Opera Company "D," touring as Tommy Merton in The Vicar of Bray and Barnabas Bellows-to-mend in Haddon Hall until December 1893 when the Company took up Utopia Limited. It appears that Marchmont was in the chorus for Utopia and for most of the other operas added in 1894 and 1895. His only named part during those years was Francal in Mirette (February-April 1895).
By June 1895 he had transferred to D'Oyly Carte Opera Company "C," where, in December he appeared as Scynthius in a revival of Princess Ida. It would be his only named part in an extensive repertoire until November 1896, when Albert Kavanagh left Company "C" for South Africa. In November and December 1896, Marchmont appeared as the Usher in Trial by Jury, the Notary in The Sorcerer, the Earl of Mountararat in Iolanthe, Pish-Tush (once more) in The Mikado, the Lieutenant in The Yeomen of the Guard, and Luiz in The Gondoliers, until December 12, 1896, when the Company was disbanded and he left the Carte organziation.
Marchmont rejoined Carte's "C" Company chorus in 1898. He remained with D'Oyly Carte Opera Company "C" through December 1898, appearing in two small parts:Scynthius in Princess Ida and Giorgio in The Gondoliers.
---
M Index | "Who Was Who" Homepage
---