THE D'OYLY CARTE OPERA COMPANY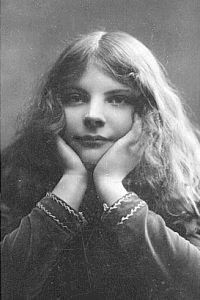 Ela Q. May as Liza in Peter Pan
Ela Q. May (1901, 1902)
Ela Q. May was a child actress who made her first appearance on the London Stage as a bridesmaid in J. M. Barrie's The Wedding Guest (Garrick, September 1900-January 1901). After brief stints at the Court and Princess's she was engaged by the D'Oyly Carte organization to play Little Christina in Ib and Little Christina at the Savoy. Ib and Little Christina ran for just 16 performances (November 14-29, 1901).
During the subsequent revival of Iolanthe at the Savoy, Miss May found work at the Duke of York's as Sandro in Louis Parker's The Twin Sister, but she returned to the Savoy, where she appeared from April to July 1902 as Second Royal Page in Hood & German's Merrie England.Somehow, she was able to appear simultaneously at Terry's as Norah in Mrs. Beringer's The Holly Tree Inn (April-May 1902).
Ela Q. May does not appear to have returned for Merrie England's second run at the Savoy. She later appeared in children's parts in The Exile (Royalty, May 1903), Rumplestiltzkin (a single Adelphi matinee, May 1903), Ib and Little Christina again (Daly's and Lyric, January-March 1904), Peter Pan (Duke of York's, December 1904-April 1905 and December 1905-February 1906), and Pantaloon (Duke of York's, April-July 1905).
---
M Index | "Who Was Who" Homepage
---