THE D'OYLY CARTE OPERA COMPANY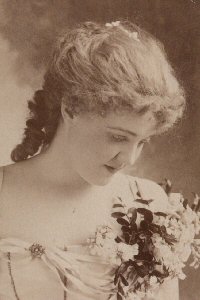 Nancy McIntosh as La Favorita in The Circus Girl
Nancy McIntosh (1893-94)
[Born Cleveland, Ohio 1874, died London 20 Feb 1954]
Nancy McIntosh came to England in 1892 with her father to complete her musical education and, perhaps, to forget a great American tragedy. W. A. McIntosh was president of a public utility company and member of the South Fork Fishing and Hunting Club, whose Conemaugh River dam burst in 1889 resulting in the loss of 2,200 lives in Johnstown, Pennsylvania.
In London, she studied under George Henschel, who in turn introduced her to W. S. Gilbert. She had sung in popular and oratorio concerts, with the London Symphony Orchestra, and at the Crystal Palace. After hearing her, Gilbert asked Arthur Sullivan to audition her for the soprano lead in their new opera. Sullivan approved her, and she made her theatrical debut creating the part of Princess Zara in Utopia (Limited) at the Savoy on October 7, 1893. She played Princess Zara for the duration of the run--until June 1894. It was her only part with the D'Oyly Carte Opera Company.
Miss McIntosh became a protegee of Gilbert's, and ultimately moved in with him and Mrs. Gilbert as an "adopted" daughter, although (as she was an adult) no formal adoption took place. Her London stage appearances were rare and limited to works by Gilbert. In addition to Utopia Limited, she appeared as Dorothy in Gilbert's Dan'l Druce, Blacksmith (Prince of Wales's, 1894), as Christina in Gilbert & Osmond Carr's "His Excellency" (Lyric, 1894-95), and as Selene in Gilbert & German's opera Fallen Fairies at the Savoy in December 1909. She had also appeared in America in "His Excellency" (1895), as well as in The Circus Girl and The Geisha (1897-98). It is reported that Sullivan's refusal to set "His Excellency" for the Savoy was due largely to Gilbert's insistence that Miss McIntosh be cast.
Fallen Fairies was not a success, and management attributed much of the blame to Nancy McIntosh, whose vocal powers were not what they had been more than a decade earlier. C. H. Workman was the opera's lead and its producer, whose unhappy duty it was to replace Miss McIntosh after the first week and incur the wrath of Gilbert. She never appeared on stage again.
Nancy McIntosh was a part of the Gilbert household for the rest of their lives, serving as hostess at Grim's Dyke and even writing articles for the popular press about Gilbert's pets there. When Lady Gilbert died in 1936 Miss McIntosh moved to Knightsbridge, London. She also took Lady Gilbert's spot as Vice-President of the Gilbert & Sullivan Society. Gilbert's will left his entire estate, including the Garrick Theatre, to Lady Gilbert, then after her death it passed to Nancy McIntosh. When Nancy died in 1954, the residue of the Gilbert estate went to the Royal General Theatrical Fund, including substantial royalties from the HMV and Decca recordings of the Gilbert & Sullivan operas. The Fund also received stocks and revenues from the sale of Gilbert's papers to the British Museum.
Nancy McIntosh was the sister of Burr McIntosh, noted American writer, publisher, photographer, war correspondent, radio personality, and stage and film actor.
---
M Index | "Who Was Who" Homepage
---