THE D'OYLY CARTE OPERA COMPANY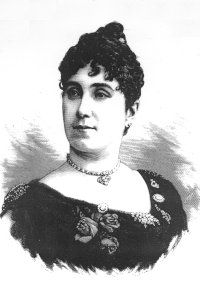 Violet Melnotte
Violet Melnotte (1877)
[Born Birmingham, Warwick 2 May 1855, died London 17 Sep 1935]
Violet Melnotte (real name Emma Solomon) made her first appearance as a professional actress in pantomime at the Theatre Royal, Hull, in the mid-1870s. Her London debut came in October 1876 as Fezz in Bluebeard with Lydia Thompson's Company at the Folly Theatre. A few months later she took her only role under D'Oyly Carte management as a Tittlebat-fisher in Carte's own "musical pastoral" Happy Hampstead (Royalty Theatre, January-February 1877).
Miss Melnotte would perform regularly in comic opera and pantomime in London and the British provinces over the next eight years. In 1885 she went into management, taking over the Avenue Theatre for a season in 1885. She subsequently managed the Comedy Theatre, there launching Paulton & Jakobowski's comic opera Erminie with a run of 154 performances (October 1885-April 1886), followed by triumphant tours of America and the provinces. She also appeared in Erminie as Cerise Marcel. She then managed a production of Ivan Caryll's comic opera The Lily of Leoville. It was produced at the Grand Theatre, Birmingham, on May 3, 1886, and brought to the Comedy Theatre, a week later for a run of 41 perfomances, ending June 25 of that year. Miss Melnotte also played Turlurette in The Lily of Leoville.
She later took over Toole's Theatre and produced plays at the Royalty, while at the same time building, in conjunction with her husband, Frank Wyatt (himself a D'Oyly Carte artist as the original Duke of Plaza-Toro in The Gondoliers), the Trafalgar Square Theatre in St. Martin's Lane. The theatre's name was later changed, by Royal permission, to the Duke of York's. Miss Melnotte is credited not only with making a success of the Duke of York's, but also with converting the St. Martin's Lane district into a new theatrical center in London.
The theatre was completed in 1892, and Violet Melnotte took over its management herself in 1894. She retained ownership of the Duke of York's (except for a five year gap from 1928 to 1933) until her death in 1935.
---
M Index | "Who Was Who" Homepage
---