THE D'OYLY CARTE OPERA COMPANY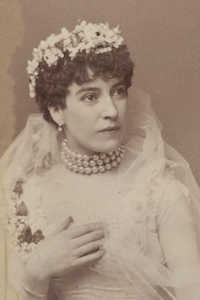 Clara Merivale
Clara Merivale (1880-81, 1883-84, 1886-87)
Clara Merivale received her musical training in Paris. Returning to England, she appeared briefly with the Carl Rosa Opera Company in Liverpool and London, then devoted herself to the concert platform.
In August 1880 she was engaged by D'Oyly Carte, but before her D'Oyly Carte debut she was loaned to the Boston Ideal Opera Company with whom she appeared as Edith in The Pirates of Penzance at New York's Booth's Theatre, September 13 to 25, 1880.
She immediately returned to the D'Oyly Carte, making her debut with the Company the following month in Bristol, England, as Edith in the first provincial production of Pirates with Carte's newly formed "B" Company. She toured with "B" Company until March 1881 as Edith and as Mrs. Georgina Liverby in the Desprez & Cellier companion piece In the Sulks. Shortly after leaving the D'Oyly Carte she toured for a time as the Countesse in Olivette. We then lose track of her until December 26, 1883, when she returned to the D'Oyly Carte organization as principal soprano for a brief tour with Mr. D'Oyly Carte's "Pinafore" and "Pirates" Company, appearing as Josephine and Mabel until February 2, 1884, when the Company disbanded. Beginning July 28, 1884, she was Josephine, Mabel, and Patience in Patience with Carte's "C" (Repertory) Company. She alternated with Ethel McAlpine in all three roles beginning in October 1884, and then left the D'Oyly Carte organization in December of that year to tour in the title role in Edward Solomon's comic opera Polly.
Miss Merivale returned to the D'Oyly Carte for a final engagement in July 1886, appearing as Yum-Yum in The Mikado with Carte's Continental ("G") Company in Germany and Austria until January 1887. She then played Yum-Yum for six weeks in Scotland (January 17-February 26, 1887) with Carte's new "A" Company before leaving the Carte organization for the final time.
She later traveled to Australia where she appeared as Patience in an 1889 revival of the aesthetic opera at the Theatre Royal, Sydney. In March 1890, she participated in New Zealand's first professional productions of The Yeomen of the Guard, as Elsie Maynard, and Princess Ida, in the title role, at the Princess Theatre, Dunedin.
---
M Index | "Who Was Who" Homepage
---