THE D'OYLY CARTE OPERA COMPANY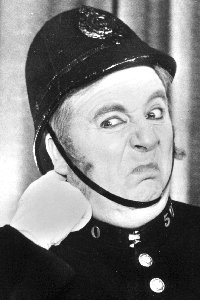 Fisher Morgan as the Sergeant of Police in The Pirates of Penzance
Fisher Morgan (1951-56)
[Born Glamorgan, Wales 1908, died London 18 Jan 1959]
Thomas Fisher Morgan began his professional career as a concert and radio performer. He joined the D'Oyly Carte Opera Company in April 1951, appearing regularly for the next few months as Sergeant Bouncer in Cox and Box and The Lieutenant of the Tower in The Yeomen of the Guard, and filling in on occasion for Richard Watson as Private Willis in Iolanthe, Pooh-Bah in The Mikado, Wilfred Shadbolt in Yeomen, and Don Alhambra in The Gondoliers.
By September 1951 Watson had left and Fisher Morgan was promoted to principal baritone. His repertoire for the next two seasons would consist of Bouncer, the Learned Judge in Trial by Jury, the Sergeant of Police in The Pirates of Penzance, Private Willis, Pooh-Bah, Sir Despard Murgatroyd in Ruddigore, Shadbolt, and Don Alhambra. He shared Bouncer with Ivor Evans in 1952-53, and was away from the Company for a while in November-December 1952, spelled by Trevor Hills.
Morgan gave up Bouncer in 1953, but added a new role, King Hildebrand, with the revival of Princess Ida in September 1954. He turned over the Judge to John Reed in March 1955, finishing out his career with the Sergeant in Pirates, Private Willis, Hildebrand, Pooh-Bah, Despard, Shadbolt, and the Don. He left the Company in April 1956.
He may be heard on the Company's early Decca LP recordings of Iolanthe (Private Willis, 1952), The Sorcerer (Sir Marmaduke Pointdextre, 1953), and Princess Ida (King Hildebrand, 1955).
After leaving the D'Oyly Carte, Morgan returned primarily to concert and broadcasting work. He did, however, appear for three seasons as the Emperor of China in the Christmas pantomime Aladdin:at the London Palladium (1956-57), at Nottingham (1957-58), and at Liverpool (1958-59). After an evening performance in Liverpool, in January 1959, Morgan caught a night train to London, en route to his home in Cheam, Surrey, for the weekend. Shortly after his arrival there he collapsed and died.
---
M Index | "Who Was Who" Homepage
---