THE D'OYLY CARTE OPERA COMPANY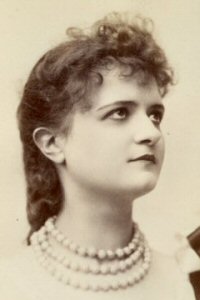 Esther Palliser as Gianetta in The Gondoliers
Esther Palliser (1890, 1890-91)
[Born Germantown, Pennsylvania 28 Jul 1872]
Esther Palliser, whose real last name was Walters, came from a musical family:her mother was a well-known concert singer and her father was a conductor, professor of music, and her first teacher. She completed her musical education in Europe and made her operatic debut in Faust at Rouen. She was then engaged by D'Oyly Carte who sent her to New York as Gianetta with Carte's ill-fated First American Gondoliers Company (Park Theatre, January 1890). When the opera was recast and restaged at Palmer's Theatre in February she was one of the few principals to survive. She was later replaced by Leonora Snyder and toured New England in April 1890 as Gianetta in an authorized production with John Stetson's Company. In June 1890 she reappeared in New York, at Palmer's again, as Dolores in The Sea King, a musical piece by Richard Stahl.
She returned to England where Carte engaged her again:this time for the Savoy where she played Gianetta again from September 1890 to January 1891, "the last and immeasurably the best" of Geraldine Ulmar's successors according to one reviewer. Later that month she would sing Rowena for Carte in the first production of Ivanhoe at the Royal English Opera House, eventually moving up to take the more satisfying role of Rebecca. When Ivanhoe gave way to La Basoche in November 1891 she appeared as Marie d'Angleterre.
Miss Palliser then went into grand opera for a few years, appearing sporadically at Covent Garden and Drury Lane through 1895. In November 1892 she sang Micaela in Carmen at a command performance at Windsor Castle.
In 1898 she sang under Sullivan's direction at the Leeds Musical Festival. She recorded a number of songs, five of which were issued by the Gramophone & Typewriter Company in 1902. One of these, "The Sweetest Flower that Blows" by Hawley, appeared on the LP "The Art of the Savoyard: Volume II" (Pearl GEMM 282-283).
Esther Palliser appeared in major concerts in Germany, France, and America well into the 20th century. She sang in San Diego at the Panama-California Exposition in July 1916.
---
P-Q Index | "Who Was Who" Homepage
---