THE D'OYLY CARTE OPERA COMPANY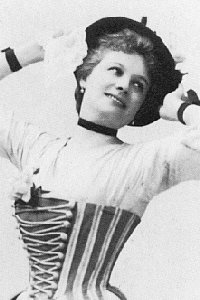 Ilka Pálmay as Julia Jellicoe in The Grand Duke
Ilka Pálmay (1896-97)
[Born Ungvar, Ung Megye, Hungary 21 Sep 1859, died Budapest, Hungary 17 Feb 1945]
Ilka Pálmay, whose real name was Ilona Petráss, appeared first on the musical stage in her native Hungary. In the early 1890s she performed at the Theatre an der Wien (Vienna) where she created leading roles in Karl Zeller's Der Vogelhändler (1891) and Johann Strauss's Fürstin Ninetta (1893). In 1893 she also appeared in a German production of The Mikado as Nanki-Poo (!). It was around this time that she married her second husband, Austrian Count Eugen Kinsky.
In 1895 she accepted an invitation from the Duke of Coburg-Gotha to appear with his Court Theatre Company in London as a guest artist. She appeared as Christel in Der Vogelhändler in five performances at Drury Lane (June 17-29, 1895). She was then surprised by an offer from the D'Oyly Carte Opera Company to appear at the Savoy in Gilbert & Sullivan's final opera, The Grand Duke, in which she would create the part of Julia Jellicoe, the English comedienne. She agreed to a two-year contract with the Company but The Grand Duke ran for only four months, from March to July 1896, and when The Mikado was revived on July 11, Madame Pálmay was on the sidelines. She returned for His Majesty (February-April 1897), creating the role of Felice, and for the May 1897 revival of The Yeomen of the Guard, in which she appeared as Elsie Maynard, but citing ill-health, she left the Company in July 1897 and returned home.
In 1898-99 she appeared again in Vienna, but most of her career was spent in Budapest. She did appear briefly in the German language theatre in New York in 1905, but shortly returned to Hungary, ultimately retiring from the stage in 1928.
She recorded two songs in Vienna in 1900 and several in Budapest in 1903. The Budapest songs included one in English, "Butterfly," a folk song which has been preserved on "The Art of the Savoyard" LP set and CD (Pearl GEMM CD 9991).
Countess Kinsky eventually wrote her memoirs in the Hungarian language. They were translated into German and published in Berlin in 1911 as "Meine Erinnerungen" ("My Memories"). A chapter of the book is devoted to her days at the Savoy. That chapter was translated into English by Andrew Lamb and appears in the May and September 1972 issues of The Gilbert & Sullivan Journal. In her book she mentions D'Oyly Carte plans for a musical version of Sardou's Madame Sans-Gêne for the 1897-98 season, but those plans never came to fruition.
---
P-Q Index | "Who Was Who" Homepage
---