THE D'OYLY CARTE OPERA COMPANY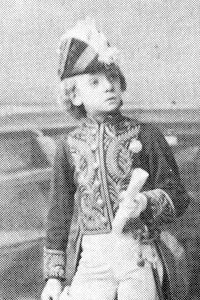 Edward Pickering as Sir Joseph Porter in children's H.M.S. Pinafore
(Master) Edward Pickering (1877-78)
[Born London 6 Jun 1871]
Edward A. Pickering was in all likelihood the only artist to appear with the D'Oyly Carte organization in an adult production before being engaged for Carte's children's H.M.S. Pinafore at the Opera Comique and later on tour.
Pickering claimed to have appeared at the Opera Comique in 1877 at the age of six. If so, it would have been as Hercules, the page, during the original production of The Sorcerer (November 1877-May 1878). This is not unreasonable for, while the part of Hercules was never in the D'Oyly Carte program at the Opera Comique, it was on tour, and Master Edward Pickering was credited with the role, as well as with Tom Tucker in H.M.S. Pinafore, with Carte's touring Comedy Opera Company from September to December 1878.
When Carte launched his children's H.M.S. Pinafore at the Opera Comique in December 1879, Edward Pickering was Sir Joseph. The Company played H.M.S. Pinafore at the Opera Comique until March 1880, on tour from August to December 1880, then back at the Opera Comique for matinees December 1880-February 1881, and then on one last provincial tour into the spring of 1881. Edward Pickering was Sir Joseph for most, if not all, of these engagements.
(Oddly, programs for The Sorcerer from Mr. D'Oyly Carte's "D" Company, between March and December 1880, list "Albert Pickering" as Hercules. [The programs for H.M.S. Pinafore on the same tour use the pseudonym Mr. Fitzaltamont for Tom Tucker.] Whether Albert was Edward's brother, or Edward himself using his middle name, is at this point a mystery. If the latter, he would have had to have been away from the children's Pinafore tour.)
Edward Pickering was also a choirboy in his youth with the Moore and Burgess minstrels. He quit the stage at a young age and went to work at the Savoy Theatre in an office capacity. He then transferred to the Empire, and by 1898 was acting manager at the Alhambra. After traveling to South Africa (1903-06), he returned to London as acting manager at the Palace (1906-11) and the Alhambra (1911-12). After another Africa tour, he resumed theatre management in London at several theatres (1917-21), before becoming a partner in a theatrical agency. He then served for a time as general manager to Jack Buchanan's enterprises. In the early 1930s he was back in theatre management.
---
P-Q Index | "Who Was Who" Homepage
---