THE D'OYLY CARTE OPERA COMPANY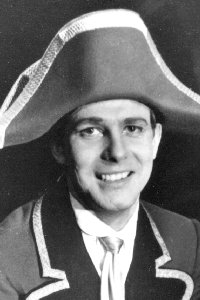 Philip Potter as Frederic in The Pirates of Penzance
Philip Potter (1961-70, 1970-71, 1979)
[Born Leicester 6 Feb 1936, died 7 Nov 2016]
After training at the Guildhall School of Music and Drama, Philip White Potter first appeared on the London Stage as a singer in the 1958 production of Where's Charley? at the Palace Theatre in 1958-59. He later appeared in Marigold (Saville and Savoy, 1959), Flower Drum Song, and Chu Chin Chow.
He joined the D'Oyly Carte Opera Company in May 1961, appearing during the next two months as Earl Tolloller in Iolanthe and Colonel Fairfax in The Yeomen of the Guard. Over the next nine seasons he sang most of the leading tenor roles:the Defendant in Trial by Jury (1964-67), Frederic in The Pirates of Penzance (1961-70), the Duke of Dunstable in Patience (1964-67), Tolloller in Iolanthe (1961-62 and, on occasion, 1968-69), Prince Hilarion in Princess Ida (1961-70), Nanki-Poo in The Mikado (1961-62, 1963-70), Richard Dauntless in Ruddigore (1967-70), Fairfax in Yeomen (1961-62, on occasion during the two seasons spanning 1962-64, and regularly again 1964-70), and Marco (on occasion in 1961-62) and Luiz (1962-70) in The Gondoliers. While he was with the Company he was permitted to make fortnightly appearances on the Welsh television show "Land of Song."
Potter left the D'Oyly Carte Opera Company in May 1970 to operate a 900-year old Devonshire ale house with his wife, but continued to play Richard Dauntless as a guest artist until the end of the tour in August. He returned as guest artist for the 12-week (December 1970-March 1971) London Season at Sadler's Wells, in which he appeared as Frederic, Hilarion, Nanki-Poo, and Fairfax, and guested again as Hilarion at Royal Festival Hall in August 1971.
During his time with the D'Oyly Carte Potter participated in 1965 BBC television broadcast of Patience as the Duke of Dunstable, and the 1966 film version of The Mikado as Nanki-Poo. He appears on several stereo recordings made during his tenure:1961 Patience (as the Duke), 1964 Yeomen (as Fairfax), 1964 Princess Ida (as Hilarion), 1965 "A Gilbert & Sullivan Spectacular" (excerpts as Nanki-Poo), 1968 Pirates (as Frederic), and 1970 "Songs and Snatches" (excerpts from several operas).
After giving up the Devonshire property some years later, Potter rejoined the D'Oyly Carte one last time, appearing only as Nanki-Poo in The Mikado from March to September 1979, a period that ended with the Company's 17-week Australia-New Zealand tour.
---
P-Q Index | "Who Was Who" Homepage
---