THE D'OYLY CARTE OPERA COMPANY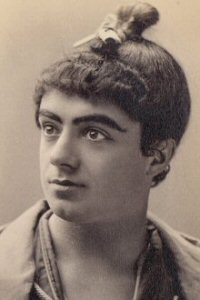 Courtice Pounds as Nanki-Poo in The Mikado
Courtice Pounds (1881-86, 1887, 1888-92, 1894-95)
[Born Pimlico, London 30 May 1862, died Surbiton 21 Dec 1927]
Charles Courtice Pounds's career as a vocalist began at age eight in the choir at St. Stephen's Church, Kensington. After serving in the choir of the Italian Church, Hatton Garden, and studying at the Royal Academy of Music, he returned to St. Stephens as tenor soloist.
Pounds joined the D'Oyly Carte Opera Company at the Savoy in October 1881 in the chorus of Patience. His first named part was Mr. Wranglebury in the Desprez & Faning curtain raiser Mock Turtles, added to the Savoy bill the following month. He remained at the Savoy until December 1882, when he joined Mr. D'Oyly Carte's No. 2 'Iolanthe' Company as principal tenor, appearing as Earl Tolloller through January 1884. He then transferred to Mr. D'Oyly Carte's "D" ('Princess Ida' No. 1) Company, newly formed, to give the first provincial production of Princess Ida with Pounds as Prince Hilarion, from February 1884 forward. Trial by Jury and The Sorcerer were added to the "D" Company tour in February 1885, with Pounds taking the Defendant in the shorter piece.
Pounds was then tabbed to play Nanki-Poo in Carte's first American Mikado Company, opening at the Fifth Avenue Theatre, New York, in August 1885. He played Nanki-Poo for American audiences for the duration of the run, then appeared for a time with Carte's "G" Continental Company in Germany and Austria as Nanki-Poo. In June 1886 he was back at the Savoy filling in for Durward Lely as Nanki-Poo, but then returned to the continent with "G" Company.
Pounds's services were then lent to John Stetson, the American manager, in the autumn of 1886, and he played in Carte-sanctioned productions of Princess Ida (as Hilarion) and The Mikado (as Nanki-Poo) in New York (November-December 1886) and Patience in Boston (January 1887, as Archbald Grosvenor).
He then returned to England and the D'Oyly Carte to rehearse the new opera, Ruddygore, gave two matinee performances as Richard Dauntless at the Savoy, and then sailed for New York again, playing Richard there from February through April 1887. After Ruddygore had run its course in America, Pounds transferred his services to the Casino Theatre, New York, for nine months, appearing there in The Marquis and Madelon.
In May 1888 he returned to London, and on October 3 of that year created the part of Colonel Fairfax in the first production of The Yeomen of the Guard at the Savoy. The decision to engage Pounds for the part was made after "very long and earnest consideration" according to Arthur Sullivan, writing to Geraldine Ulmar in July. "We were in a great difficulty," Sullivan wrote, "for he was the only available good Tenor:all the others we considered (and there were many) were utterly unfit for the stage:that is, to play such an important part as we have made in the new Opera. As it is, I should have preferred a stronger actor than Pounds, but he will sing the music well, and is safe in acting at all events."
Pounds's Fairfax was a success. He would play the role throughout the run at the Savoy (October 1888-November 1889), then go on to create the parts of Marco in The Gondoliers (December 1889-June 1891) and Indru in The Nautch Girl (June 1891-January 1892), play the Reverend Henry Sandford in a revised version of The Vicar of Bray (January-June 1892), and create the role of John Manners in Haddon Hall (September 1892).
Pounds left the D'Oyly Carte and the Savoy in October 1892. He then appeared in Ma Mie Rosette (Globe and Prince of Wales's, November 1892-February 1893), La Fille de Madame Angot (Criterion, July-October 1893), Miami (Princess's, October 1893), and Wapping Old Stairs (Vaudeville, February-April 1894).
Returning to the Savoy in July 1894 he was Picorin in both versions of Mirette (July-August and October-December 1894), and created Count Vasquez de Gonzago in The Chieftain (December 1894-March 1895). He then went on tour briefly with D'Oyly Carte Opera Company "D" as Picorin, Vasquez, and possibly Rev. Sandford from April to July 1895 before leaving the D'Oyly Carte organization for good.
He traveled to Australia, appearing in The Yeomen of the Guard (presumably as Fairfax) at the Lyceum, Sydney, in February 1896. Pounds was back in London a year later appearing as Lancelot in La Poupee at the Prince of Wales's (February 1897-September 1898).
Courtice Pounds appeared regularly on the London Stage over the next twenty-five years in a variety of roles ranging from Shakespeare to music hall. As a Shakespearian clown he appeared as Feste in Twelfth Night, Sir Hugh Evans in The Merry Wives of Windsor, and Touchstone in As You Like It. His most memorable roles in his later years, however, were in musical comedy:including Papillon in The Duchess of Dantzic (his favorite role and one he played in New York as well as London), Ali Baba in Chu Chin Chow (a part he played for nearly five years), and Franz Shubert in Lilac Time.
He recorded a few songs for HMV in 1916, and four from Lilac Time for Vocalion in 1923, but his only Gilbert & Sullivan recording ("Is Life a Boon?," 1916) was never issued. He may, however, be heard on "The Art of the Savoyard" (Pearl GEMM CD 9991) singing "When a Pullet is Plump" from Chu Chin Chow.
Pounds died of heart disease in December 1927. Ten day prior to his death a benefit matinee was held in his behalf. Many celebrated artists appeared, including a number from former and current D'Oyly Carte productions. Four of his sisters (Lily, Louie, Nancy, and Rosy Pounds) appeared with D'Oyly Carte Opera Company, and he was married to D'Oyly Carte performers Jessie Gaston (also known as Jessie Pounds) and, later, Millicent Pyne.
---
P-Q Index | "Who Was Who" Homepage
---