THE D'OYLY CARTE OPERA COMPANY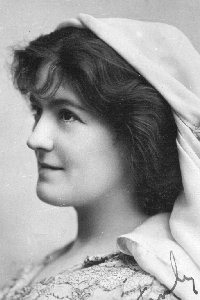 Louie Pounds
Louie Pounds (1887, 1899-1903)
[Born Brompton 12 Feb 1872, died Southsea 6 Sep 1970]
Louisa Emma Amelia Pounds was the youngest of five siblings who appeared with the D'Oyly Carte Opera Company. Her older brother Courtice was a principal tenor in the 1880s and '90s, and she had three sisters (Lily, Nancy, and Rosy) who appeared with D'Oyly Carte companies on tour and at the Savoy.
On her fifteenth birthday, February 12, 1887, she set sail with her brother and two of her sisters from Liverpool to New York. There, on February 21, Mr. R. D'Oyly Carte's First American Ruddygore Company performed Gilbert & Sullivan's supernatural opera at the Fifth Avenue Theatre with Courtice Pounds as Richard Dauntless and his three sisters in the chorus of professional bridesmaids. It would be Louie's first appearance with the D'Oyly Carte organization, and perhaps her only one for over a decade.
She later appeared in the provinces under George Edwardes's management in 1890, then her London debut in 1891 at the Opera Comique in Joan of Arc. Over the next several years she appeared at various London theatres, and in 1895 made a tour of America. She was performing at the Crystal Palace in 1899 when Sir Arthur Sullivan inquired if she had any plans for the upcoming season. "I may want you at the Savoy in the autumn," she recalls him asking.
She soon was called to see Mrs. Carte and was engaged to create the part of "Heart's Desire" in The Rose of Persia (November 1899-June 1900). She also appeared as Polly Grey, the title character in the Basil Hood & François Cellier companion piece Pretty Polly that played with The Rose of Persia and the first revival of Patience for portions of their runs. She went on to create Molly O'Grady in The Emerald Isle (April-November 1901) and Christina in Ib and Little Christina (November 1901), then took the title role in the first revival of Iolanthe (December 1901-March 1902). Iolanthe was followed at the Savoy by two original works by Basil Hood and Edward German. Louie Pounds had roles in both:as "Jill-all-alone" in Merrie England (April to July 1902, then on tour, then back at the Savoy November 1902 to January 1903) and Joy Jellicoe in A Princess of Kensington (January to May 1903). The Savoy Company then took A Princess of Kensington on tour. They disbanded later that year.
Along with many of her Savoy colleagues, Miss Pounds next appeared at the Adelphi in The Earl and the Girl (December 1903). Over the next twenty years she appeared often in London and on tour, including visits to America and South Africa. She retired in 1923 but reappeared in 1926, touring again until 1929. Although she never returned to Gilbert & Sullivan she had fond memories of her days at the Savoy. She wrote an article "Memories of an Earlier Iolanthe" that appeared in the March 1931 issue of The Gilbert & Sullivan Journal.
---
P-Q Index | "Who Was Who" Homepage
---