THE D'OYLY CARTE OPERA COMPANY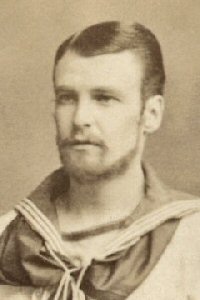 George Power as Ralph Rackstraw in H.M.S. Pinafore
George Power (1878-80)
[Born Kilkenny County, Ireland 24 Dec 1846, died Kensington, London 17 Oct 1928]
George Power was educated at Cheltenham and Trinity College, Dublin, and studied singing in Italy. He made his first appearance on stage in December 1876 at Teatro Manoel, Malta, as Almaviva in Barbière di Siviglia. His London Stage debut came a year later (Boxing night, 1877) at Her Majesty's Theatre in the tenor part in Swiss Cottage.
In February 1878 he transferred to the Opera Comique where he took over the part of Alexis from George Bentham in D'Oyly Carte's first Comedy-Opera Company production of The Sorcerer. When Trial by Jury was added to the Opera Comique bill in March, Power appeared as the Defendant, though he gave up the part in the shorter piece in April. He next created Ralph Rackstraw in H.M.S. Pinafore (May 1878-February 1880), then when The Pirates of Penzance received its London premiere in April 1880, Power was Frederic, the pirate apprentice.
Power played Frederic until October 1880 when he left the Company. His next London appearance was as Charles Lorrimore in the original production of Stephens & Solomon's Claude Duval (Olympic, August 1881). It was not a success, running only 54 performances, and Power left the cast before it closed in October. Afterwards Power became a popular teacher of singing. He made infrequent appearances on the London Stage over the next twenty years.
In 1903 he succeeded his brother to a hereditary baronetcy. Sir George Power, Bart. was proud of his association with D'Oyly Carte and the Gilbert & Sullivan operas. He was one of four original D'Oyly Carte artists who participated in a reunion at the Savoy Hotel in 1914. The four singers (Power, Jessie Bond, Leonora Braham, and Julia Gwynne) then made a pilgrimage to the Sullivan monument on the Savoy embankment, for which a photographer was fortuitously engaged. The famous photo of the four at the monument first appeared in Cellier & Bridgeman's book of recollections. Power later wrote an article on the 1879 dispute between the Comedy-Opera Company directors and Gilbert, Sullivan, and Carte over the rights to H.M.S. Pinafore. It appeared in the January 1926 issue of The Gilbert & Sullivan Journal.
---
P-Q Index | "Who Was Who" Homepage
---