THE D'OYLY CARTE OPERA COMPANY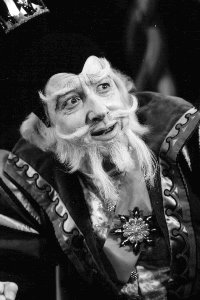 Peter Pratt as King Gama in Princess Ida
Peter Pratt (1945-59)
[Born Eastbourne 21 Mar 1923, died London 11 Jan 1995]
Peter W. Pratt joined the D'Oyly Carte Opera Company as a baritone chorister in September 1945. He assumed the small part of Second Citizen in The Yeomen of the Guard in July 1947, replacing the departing Wynn Dyson, and for portions of the 1946-47 and 1947-48 seasons appeared as Go-To in The Mikado.
Pratt began the 1948-49 season as Second Citizen in The Yeomen of the Guard and as second understudy to Martyn Green. He got his big break when he was called upon to play Robin Oakapple in Ruddigore on short notice in May 1949. He was soon given the primary understudy responsibilities, filling in later that season as Major General Stanley in The Pirates of Penzance, Ko-Ko in The Mikado, Jack Point in The Yeomen of the Guard, and the Duke of Plaza-Toro in The Gondoliers. Pratt also appeared briefly in 1948-49 as Sergeant Bouncer in Cox and Box (on occasion), as Bill Bobstay in H.M.S. Pinafore (March-May 1949), and as Major Murgatroyd in Patience (July 1949).
In 1949-50 he appeared regularly as Major Murgatroyd, Second Citizen, and Antonio in The Gondoliers, and took occasion turns with Bouncer. During the following season he began sharing Antonio with Geoffrey Sanders. As Green's understudy those seasons, Pratt filled in from time to time as Sir Joseph Porter in Pinafore, General Stanley, Reginald Bunthorne in Patience, the Lord Chancellor in Iolanthe, Ko-Ko, Robin, Jack Point, and the Duke.
Pratt took over all these roles in September 1951 following Green's departure, and served as D'Oyly Carte's principal comedian for the next eight seasons. He added King Gama to his repertoire when Princess Ida was revived in September 1954. His last appearance with the Company was on May 31, 1959. During his tenure with the Company he recorded Major Murgatroyd (Patience, 1951), John Wellington Wells (Sorcerer, 1953), King Gama (Princess Ida, 1955), Ko-Ko (Mikado, 1957), and General Stanley (Pirates, 1957).
After leaving the D'Oyly Carte, Pratt turned his attention to theatre, television, concert, and radio work. He was a member of the BBC Drama Repertory Company in the early 1960s. His love of Gilbert & Sullivan remained undiminished, however, and he frequently turned to the operas for inspiration. As a writer, narrator, and performer he presented a television play called Jack Point, and radio programs such as Afternoon at the Savoy, Evening at the Savoy, and Take a Sparkling Pair. Pratt also toured his own company, "Music Mosaic," presenting Gilbert & Sullivan and other works to audiences in Britain, North America, and Australia. He appeared in a full costume production of The Mikado at Royal Albert Hall.
In 1966 BBC radio presented a complete cycle of the Gilbert & Sullivan operas with Pratt starring in most of them:as Sir Joseph, General Stanley, Bunthorne, the Lord Chancellor, Ko-Ko, Robin, Jack Point, the Duke in Gondoliers, King Paramount in Utopia Limited, and Rudolph (and Viscount Mentone) in The Grand Duke:and working behind the scenes as co-producer. He may also be seen as a soloist in the concert video recording "Gilbert & Sullivan Present their Greatest Hits," made at Royal Albert Hall in 1982.
Pratt was married to D'Oyly Carte soubrette Joyce Wright during his days with the Company. He later married Patience Sheffield, daughter of former D'Oyly Carte baritone Leo Sheffield.
---
P-Q Index | "Who Was Who" Homepage
---