THE D'OYLY CARTE OPERA COMPANY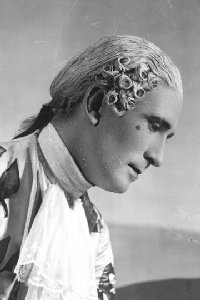 Leslie Rands as Strephon in Iolanthe
Leslie Rands (1925-47)
[Born Chichester 7 Jan 1900, died Chichester 6 Dec 1972]
A former Chicester Cathedral chorister and a veteran of the Royal Naval Air Service, Leslie Rands joined the D'Oyly Carte "New" Opera Company in July 1925. He soon began to appear in principal baritone roles, assuming the part of the Mikado in The Mikado in December of that year, and the Earl of Mountararat in Iolanthe in January 1926. He also filled in on occasion that first season as Colonel Calverley in Patience and Sir Roderic Murgatroyd in Ruddigore. In 1926 he married D'Oyly Carte soprano, later principal soubrette, Marjorie Eyre.
During the 1926-27 season, the last of the "New" Company's existence, Rands was Mr. Cox in Cox and Box, Samuel in The Pirates of Penzance, the Lieutenant of the Tower in The Yeomen of the Guard, and Giuseppe (or, occasionally, Luiz) in The Gondoliers. In June 1927, following the closure of the "New" Company he transferred to the main (Repertory) company, appearing that month in Oxford as Samuel, Pish-Tush in The Mikado, the Lieutenant, and Luiz. He also appeared as Samuel and Luiz briefly at the start of the 1927-28 season.
Over the next twenty years Rand was a popular mainstay of the D'Oyly Carte Opera Company, holding the principal baritone parts of Counsel to the Plaintiff (1928-39) and Learned Judge (1939-47) in Trial by Jury, Doctor Daly in The Sorcerer (1930-39), Captain Corcoran in H.M.S. Pinafore (1927-47), Archibald Grosvenor in Patience (1928-47), Strephon in Iolanthe (1928-47), Florian in Princess Ida (1929-39), Pish-Tush in The Mikado (1927-47), the Lieutenant in Yeomen (1927-47), and Giuseppe in The Gondoliers (1927-47).
During his tenure with the Company he recorded Strephon (1929 Iolanthe), Grosvenor (1930 Patience), Giuseppe (1931 Gondoliers excerpts), Doctor Daly (1933 abridged Sorcerer), and Pish-Tush (1936 Mikado).
Leslie Rands "retired" in 1947, but in 1949, he and Miss Eyre joined former D'Oyly Carters Richard Walker, Helen Roberts, John Dean, and Anna Bethell and headed for Australia and New Zealand, where he appeared as Mountararat and the Mikado for Frank Tait on another tour of Gilbert & Sullivan. Upon his return to England he was reunited with his former colleagues to sing Captain Corcoran and the Counsel for the Plaintiff on the Company's 1949 Decca LP recordings of H.M.S. Pinafore and Trial by Jury.
In the years following his retirement he produced traditional Gilbert & Sullivan for several amateur operatic societies. From 1953 until his death in 1972 he served a President of the Sussex branch of The Gilbert & Sullivan Society.
---
R Index | "Who Was Who" Homepage
---