THE D'OYLY CARTE OPERA COMPANY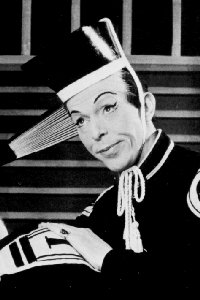 John Reed as Ko-Ko in The Mikado
John Reed (1951-79, 1981-82)
[Born Bishop Auckland, County Durham 13 Feb 1916, died Halifax, West Yorkshire 13 Feb 2010]
For a generation of Gilbert & Sullivan enthusiasts exposed to the operas in the 1960s and '70s, John Reed was the great exponent of the comic baritone roles. After a number of years in musical comedy with the Darlington (County Durham) Operatic Society, he joined the D'Oyly Carte in November 1951 as chorister and understudy to Peter Pratt, who had recently been promoted to principal comedian following the retirement of Martyn Green.
Over the next seven-and-a-half years, Reed appeared in several smaller roles:the Associate (1952-55) and the Learned Judge (1955-59) in Trial by Jury, Major Murgatroyd in Patience (1952-59), Second Citizen in The Yeomen of the Guard (1952-59), Annibale (1952-59) and Antonio (1953-59) in The Gondoliers, and Mr. Cox in Cox and Box (1957-59). He also filled in for Pratt from time to time as Major General Stanley in The Pirates of Penzance, Reginald Bunthorne in Patience, the Lord Chancellor in Iolanthe, Ko-Ko in The Mikado, Robin Oakapple in Ruddigore, Jack Point in The Yeomen of the Guard, and the Duke of Plaza-Toro in The Gondoliers.
When Pratt was ill in March and April 1959, and upon Pratt's abrupt retirement in May 1959, Reed ascended to principal comedian. His roles were now Sir Joseph Porter in H.M.S. Pinafore, General Stanley, Bunthorne, the Lord Chancellor, King Gama in Princess Ida, Ko-Ko, Robin, Jack Point, and the Duke of Plaza-Toro. In 1969 he gave up General Stanley to understudy Howard Williamson. Reed added John Wellington Wells to his repertoire beginning with the new production of The Sorcerer in March 1971. He appeared as Scaphio and Grand Duke Rudolph in the 1975 Centenary revivals of Utopia Limited and The Grand Duke respectively, and also played the Learned Judge in Trial by Jury for the Centenary productions, and in a special 1978 performance in Middle Temple Hall. Reed was awarded the Order of the British Empire (O.B.E.) in 1977.
In 1979 Reed decided it was time to expand his horizons beyond Gilbert & Sullivan. He left the Company in September, but returned briefly as a guest artist in November only:appearing as Sir Joseph, General Stanley, the Lord Chancellor, and Ko-Ko. He didn't abandon Gilbert & Sullivan altogether, however. He returned to the D'Oyly Carte as the Lord Chancellor in another guest appearance (November 1981-January 1982), then again as Sir Joseph (January-February 1982). He also appeared as a soloist in the Company's "Last Night" concert.
During his years with the Company, Reed recorded all his major roles, several more than once:Learned Judge (1964, 1975), J. W. Wells (1966), Sir Joseph (1960, 1971), General Stanley (1968), Bunthorne (1961), Lord Chancellor (1960, 1974), Gama (1965), Ko-Ko (1973), Robin (1962), Jack Point (1964, 1979), the Duke of Plaza-Toro (1961, 1977), Scaphio (1976), and Rudolph (1976). He also participated in 1965 BBC television broadcast of Patience as Bunthorne, the 1966 film version of The Mikado as Ko-Ko, and the 1973 ITV broadcast of H.M.S. Pinafore as Sir Joseph, and was the voice of Robin Oakapple in the 1967 Halas & Batchelor Ruddigore cartoon. He may also be heard on several recordings of excerpts, including an LP of patter songs assembled from the recordings of the complete operas.
He later appeared with Washington Opera as the Learned Judge and Monsieur Balandard in a double bill of Trial by Jury and Offenbach's Monsieur Choufleuri (January 1983), made several guest appearances in his familiar comic baritone roles with the New York Gilbert & Sullivan Players (1984-88), and directed numerous Gilbert & Sullivan productions for the University of Colorado in Boulder, and for other American companies.
An assessment of Reed's extraordinary D'Oyly Carte career by Colin Prestige appeared in the September 1979 issue of The Savoyard. Reed himself wrote a nostalgic article, "Goodbye, Dear D'Oyly Carte," for Musical Heritage Review, 1984. In 2006, his autobiography, "Nothing Whatever to Grumble At" (as told to Cynthia Morey), was published by Xlibris Corporation.
---
R Index | "Who Was Who" Homepage
---