THE D'OYLY CARTE OPERA COMPANY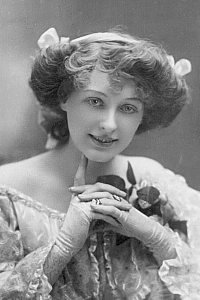 Nellie Richardson
Nellie Richardson (1891, 1899-1901)
[Died 11 Feb 1908]
Nellie Richardson appeared in London at the Globe in the chorus of Gounod's The Mock Doctor in December 1890, before going on tour as Banyan in The Nautch Girl with D'Oyly Carte Opera Company "D" from August to November 1891.
She rejoined the D'Oyly Carte organization during the initial run of The Rose of Persia at the Savoy (November 1899-June 1900), assuming the small part of "Whisper-of-the-West-Wind" from April 1900 forward. She was in the chorus at the Savoy through the revivals of The Pirates of Penzance and Patience, and for the first production of The Emerald Isle (April-November 1901). Her only named part during this time was Kate in the companion piece The Outpost for a few weeks in August-September 1900.
It appears she left the D'Oyly Carte and the Savoy after The Emerald Isle. There was an N. Richardson who appeared as a Maid of Honor in the musical play The Swineherd and the Princess (Royalty, December 1901-January 1902).
---
R Index | "Who Was Who" Homepage
---