THE D'OYLY CARTE OPERA COMPANY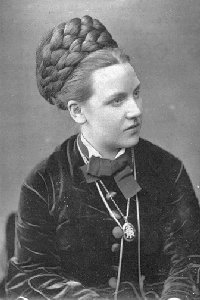 Pauline Rita
Pauline Rita (1876, 1878)
[Born c.1842, died London 28 Jun 1920]
Pauline Rita's first appearance under D'Oyly Carte management came in January 1876 at the Royalty Theatre, London. There she appeared as Gustave Muller in The Duke's Daughter, and when the opera was taken on tour under the banner of Mr. D'Oyly Carte's Opera Bouffe Company in July-August 1876 (with Carte himself as musical director) she also appeared as the Plaintiff in Trial by Jury (a part she shared with Bessie Sudlow).
In March 1878 Carte launched the first touring production of The Sorcerer. Miss Rita was the first touring Aline, but reviews were not favorable and she left the Company the following month. It was her last engagement with the D'Oyly Carte, but not with Gilbert & Sullivan.
When the split occurred between Carte and the directors of the Comedy-Opera Company at the end of July 1879, the directors decided to stage their own rival production of H.M.S. Pinafore in London at the Imperial Theatre. In August it transferred to the Royal Olympic, with Miss Rita hired by the directors to play Josephine on alternate nights with Kate Sullivan. The rival Pinafore closed in October for lack of public support.
Before her D'Oyly Carte and Comedy-Opera Company engagements, Miss Rita had appeared as Barbara in Alfred Cellier's comic opera The Tower of London (Prince's Theatre, Manchester, October-November 1875).
---
R Index | "Who Was Who" Homepage
---