THE D'OYLY CARTE OPERA COMPANY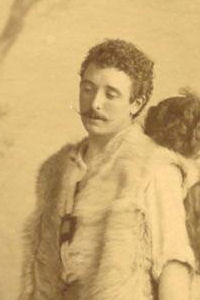 Charles Rowan in La Mascotte
Charles Rowan (1883-86)
Tenor Charles Rowan sang the part of Phillip Fitz-Stubbs in the companion piece A Private Wire that played at the Savoy with Iolanthe from March 1883 to January 1884. He also filled in briefly for Durward Lely as Earl Tolloller in Iolanthe in August 1883.
Rowan then joined Mr. D'Oyly Carte's newly-formed "D" ("Princess Ida" No. 1) Company as Cyril in the first provincial production of Princess Ida. When the tour ended in December 1884, Rowan shifted to Mr. D'Oyly Carte's "A" Company as Cyril and, beginning in January 1885, as Alexis in The Sorcerer, as well. He returned to "D" Company when they resumed touring in February of that year as Cyril and Alexis. The Company was inactive from May 10 to July 26, but resumed touring with a new opera, The Mikado, on July 27, with Rowan as Nanki-Poo. He sang Nanki-Poo with Carte's "D" Company until the tour broke again in June 1886. At that point it appears he left the D'Oyly Carte organization for good.
Charles Rowan had two roles on the London Stage in the 1890s:as Major Maroon in a single matinee performance of an operetta The Dear Departed (Comedy, May 25, 1890), and as Lieutenant Bradley in the musical comedy The New Barmaid (Avenue and Opera Comique, February-July 1896).
---
R Index | "Who Was Who" Homepage
---