THE D'OYLY CARTE OPERA COMPANY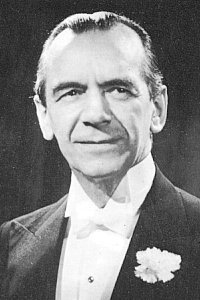 Malcolm Sargent
Malcolm Sargent (cond., 1926, 1929-30, 1951, 1961-62, 1963-64)
[Born Bath Villas, Ashford, Kent 29 Apr 1895, died London 3 Oct 1967]
Harold Malcolm Watts Sargent earned his diploma from the Royal College of Organists at age sixteen, and in his early 20s became England's youngest Doctor of Music. He made his debut in the Queen's Hall Promenade concerts in 1921 when he conducted his own composition, Impressions of a Windy Day. Turning from composition to conducting, he became a lecturer at the Royal College of Music, London in 1923. Especially adept at handling large choral groups, he was reportedly associated at one time or another with every major British choral society.
Sargent was frequently called upon by the D'Oyly Carte Opera Company to conduct for special engagements in London. He conducted for the 13-week September-December 1926 season at the Princes Theatre, the October 1929-March 1930 return to the rebuilt Savoy, the May-August 1951 "Festival of Britain" season at the Savoy, and the December 1961-March 1962 and December 1963-April 1964 seasons at the Savoy.
He also conducted the D'Oyly Carte for several recordings of the complete operas for H.M.V.:The Yeomen of the Guard (1929), The Pirates of Penzance (1929), Iolanthe (1930), H.M.S. Pinafore (1930), Patience (1930), Yeomen of the Guard excerpts (1931), Pirates of Penzance excerpts (1931), Gondoliers excerpts (1931), Ruddigore (1932), and Princess Ida (1932). He returned to conduct D'Oyly Carte's The Yeomen of the Guard (1964) and Princess Ida (1965) for Decca more than thirty years later.
Between 1957 and 1963 Sargent conducted nine of the operas (Trial by Jury, Pinafore, Pirates, Patience, Iolanthe, Mikado, Ruddigore, Yeomen, and Gondoliers) for E.M.I. recordings using the Pro Arte Orchestra, the Glyndebourne Festival Chorus, and soloists from the world of grand opera.
Malcolm Sargent was knighted for his services to music in 1947. He took charge of London's famed Promenade Concerts ("the Proms") from 1948 until his death. Sargent toured frequently and at length, visiting the United States and Canada in 1963, 1964, and 1965.
Stricken with pancreatic cancer, he underwent surgery in July 1967, and although he appeared and spoke at the last night of the Proms that year, the disease was fatal. He died on October 3, 1967, at the age of 72. "Malcolm Sargent," an exhaustive biography by Charles Reid, was published in 1968 by Hamish Hamilton Ltd.
---
S Index | "Who Was Who" Homepage
---