THE D'OYLY CARTE OPERA COMPANY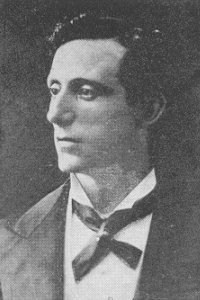 William H. Seymour
William H. Seymour (1880, 1881, 1882-83)
[Born England, died Dayton, Ohio 7 Jan 1899]
William Howell Seymour was an American performer contemporary with, but unrelated to, the W. H. Seymour who performed with and stage managed for the D'Oyly Carte Opera Company in England. He appeared with Edwin Forrest at the Brooklyn Academy of Music in 1870 and was frequently on the New York Stage for the next fifteen years. His Gilbert & Sullivan debut may have come at the Broad Street Theatre in Philadelphia, where he played the Learned Judge and Sir Joseph Porter in a Trial by Jury/H.M.S. Pinafore double-bill with the American Comic Opera Company commencing on February 10, 1879.
Seymour appeared in principal comedian roles for several American D'Oyly Carte productions in the early 1880s. From February to May 1880 he toured the U.S. and Canada as Major General Stanley in The Pirates of Penzance with D'Oyly Carte's Second American Pirates Company. On occasions when Pinafore was presented instead of Pirates, Seymour was Sir Joseph Porter. He later appeared as Sir Mincing Lane in New York and Boston with Carte's First American Billee Taylor Company (February-May 1881, though called away at that point due to the death of his mother), Diedrich Knickerbocker at New York's Standard Theatre in Planquette's Rip Van Winkle (October-November 1882), and the Lord Chancellor with Carte's Second American Iolanthe Company at Philadelphia's Lyceum Theatre (December 1882-January 1883).
Though Iolanthe was his last D'Oyly Carte assignment, he did appear in an unauthorized Mikado as Ko-Ko, with the Templeton Company (New York and on tour, December 1885-March 1886), and in Patience under the management of Robert Grau (April-May 1886).
---
S Index | "Who Was Who" Homepage
---