THE D'OYLY CARTE OPERA COMPANY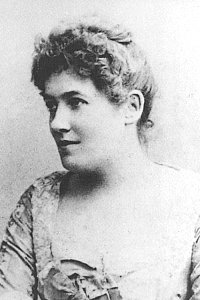 Lucy Carr Shaw
Lucy Carr Shaw (1883-85, 1886)
[Born Dublin 26 Mar 1853, died London 27 Mar1920]
Lucinda Frances Shaw was born in Dublin 26 March 1853, three years before her brother, dramatist and critic George Bernard Shaw. She appeared in a production of Bellini's La Somnambula in Dublin before moving to London in 1874. There she appeared in Beauty and the Beast (1879), and in 1881 joined the Carl Rosa Company, touring as Arline in Balfe's The Bohemian Girl, as well as Offenbach's Lurette and Barbe-Bleu.
She joined D'Oyly Carte's "Pinafore and Pirates" Company in December 1883, appearing in the small parts of Isabel in Pirates and Jane in the "curtain raiser" Mock Turtles. In February 1884 she transferred to "E" Company ("Iolanthe" No. 2), playing Celia in Iolanthe, and Lady Ella in Patience when that opera as added in July. She remained with "E" Company until March 1885, when she transferred to D'Oyly Carte's "A" Company, replacing Evelyn Ward as Aline in The Sorcerer and in the title role in Princess Ida. When H.M.S. Pinafore was added to the repertoire in June, she took the part of Josephine. "A" Company disbanded in December of that year.
After a brief bout with pleurisy, Lucy rejoined the D'Oyly Carte in the Mikado chorus for its first tour of Europe beginning in June 1886. Her name appears in the programme two weeks into the tour when Trial by Jury was added as a "curtain raiser" and she took the role of the Plaintiff. She left the D'Oyly Carte organization for the last time in October—returning to London to appear briefly at the Gaiety in the title role in Stephenson and Cellier's Dorothy, and then taking that part on tour for the next several years.
About this time, she married the tenor Cecil Burt, who toured with her in Dorothy as Geoffrey Wilder. Burt, whose real name was Charles Robert Butterfield, had earlier appeared with D'Oyly Carte's "A" Company as Prince Hilarion in Princess Ida in 1884. Their marriage ended in divorce in 1909.
Lucy Carr Shaw appeared on Broadway in 1897 (in Villiers Stanford's Shamus O'Brien), returning to England later that year. She retired from the stage in 1898 with tuberculosis. In the following years she wrote two volumes of essays and translated Strindberg's Miss Julie into English.
In her last years she suffered from anorexia, and according to G. B. Shaw's biographer Michael Holroyd, starved herself to death in 1920.
---
S Index | "Who Was Who" Homepage
---