THE D'OYLY CARTE OPERA COMPANY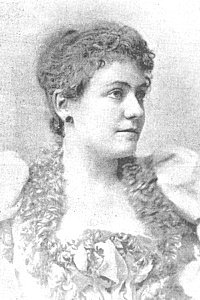 Amy Sherwin
Amy Sherwin (1890)
[Born Huon Valley, Tasmania 23 Mar 1855, died London 20 Sep 1935]
Primarily a concert singer, Amy Sherwin's concert and stage career extended from 1878, when she appeared at the Hobart Theatre Royal in Don Pasquale, until 1907, when she retired after her last Australian concert tour.
She came to America in 1879, appearing in San Francisco in several roles including Josephine in H.M.S. Pinafore in July at the Grand Opera House. Miss Sherwin made her New York debut in 1880 (a small part in Elijah), and her London debut in 1883 at Drury Lane in Maritana with the Carl Rosa Company.
After several important concerts in London, concert tours of the provinces, Australia, and the Far East, and appearances in Faust and Les Huguenots in Berlin, the "Tasmanian Nightingale" made her only D'Oyly Carte appearance as Gianetta in The Gondoliers for one week at the Savoy (July 25-31, 1890).
She later appeared as Violetta in Haydn Parry's Cigarette (Cardiff and on tour, 1892). Her only subsequent appearances in London musical works were brief engagements as Arline in The Bohemian Girl (Drury Lane, 1895), Michaela in Carmen (Drury Lane, 1896), and Lady Amoys in a single matinee performance of A Love Tangle (Wyndham's, 1901).
Miss Sherwin was more active on the concert stage, however, appearing on Sims Reeves' last tour (1890), with Patti at Royal Albert Hall (1892), on tour in South Africa (1896) and Australia (1897), with the London Philharmonic Society and at the Promenade Concerts (1899), and on two further Australian tours (1902-03 and 1906-07). She returned to London shortly thereafter, retiring from the stage and concert platform, and devoting herself to teaching and caring for her invalid daughter. She died in poverty in 1935.
---
S Index | "Who Was Who" Homepage
---