THE D'OYLY CARTE OPERA COMPANY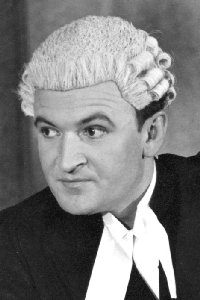 Jeffrey Skitch as the Counsel for the Plaintiff in Trial by Jury
Jeffrey Skitch (1952-57, 1957-65)
[Born South Australia 26 Sep 1927, died Southampton 7 Mar 2013]
Baritone Jeffrey Skitch made his first appearance on the London Stage as an extra in She Stoops to Conquer (Arts Theatre, April-May 1949). Later that year he was an assistant stage manager at the same theatre for The Romantic Young Lady (August-September 1949).
He joined the D'Oyly Carte Opera Company in May 1952, making his debut as Luiz in The Gondoliers. Skitch began the 1952-53 season as Luiz and Second Yeoman in The Yeomen of the Guard, but in October 1952, when Alan Styler left for a time, swapped Luiz for Giuseppe, and took over Archibald Grosvenor in Patience, Strephon in Iolanthe, and Pish-Tush in The Mikado.
When Styler returned in January 1953, Skitch reverted to Luiz, but continued to appear as Grosvenor, Strephon, and Pish-Tush, though Styler shared these roles with him. By September 1953, Skitch's roles were Captain Corcoran in H.M.S. Pinafore, Samuel in The Pirates of Penzance (shared with Trevor Hills), Grosvenor, Pish-Tush, and Luiz. For the following seasons (1954-56), he yielded Samuel to Hills, added Florian when Princess Ida was revived in September 1954, and filled in on occasion for Styler as Strephon.
In May 1956 Arthur Richards joined the Company, taking over Grosvenor for a season. Skitch's regular roles were reduced to Captain Corcoran, Pish-Tush, and Luiz in 1956-57 (though he filled in from time to time as Grosvenor and Strephon). He left the Company in May 1957.
Upon his return in December 1957, Skitch assumed only Captain Corcoran and Pish-Tush, but during the 1958-59 season added the Counsel for the Plaintiff in Trial by Jury (shared with Styler), reclaimed Florian when Princess Ida was revived in December 1958, and made the occasional appearance as the Learned Judge in Trial.
For 1959-60, Skitch was the Judge, Captain Corcoran, Pish-Tush, and (from November 1959 onward) Luiz. From 1960-62, he played the same four roles plus a share of Strephon (shared with Styler in 1960-61), and filled in on occasion for Styler as Giuseppe (1960-61) and Kenneth Sandford (1961-62) as Grosvenor.
The 1962-63 was disrupted by another Styler departure (from December-April). Skitch's roles for the entire season were Captain Corcoran, Strephon, and Florian. He also played the Judge (August-December) and the Counsel (December-April) in Trial, Pish-Tush (briefly in August, then October-August), Luiz (on occasion) and Giuseppe (December-April) in The Gondoliers.
Skitch began the 1963-64 season as the Judge, Captain Corcoran, Strephon, and Giuseppe. He reclaimed Pish-Tush in November, yielded Giuseppe to the returning Styler in December, played Florian in the January-April revival of Princess Ida, and appeared now and then as Grosvenor. For his last season with the Company (1964-65), Skitch was the Judge, Captain Corcoran, Strephon, and (on occasion) Grosvenor.
During his tenure with the D'Oyly Carte, Skitch recorded Doctor Daly in The Sorcerer (1953), Florian (1955, 1965), Captain Corcoran (1960), and Luiz (1961). After leaving the Company he taught at Oakham School, Rutland, went on to Melvern College as head of the Biology Department, and later became head of the Elmhurst Ballet School.
---
S Index | "Who Was Who" Homepage
---