THE D'OYLY CARTE OPERA COMPANY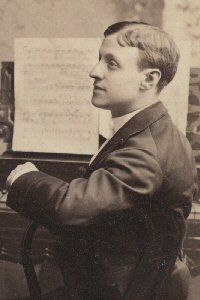 Edward Solomon
Edward Solomon (cond., 1891, 1892)
[Born London 25 Jul 1855, died London 22 Jan 1895]
Edward "Teddy" Solomon was the composer and first night conductor of two works at the Savoy:The Nautch Girl (libretto by George Dance, June 1891), and The Vicar of Bray (libretto by Sydney Grundy, January 1892). Both works were also played by D'Oyly Carte companies on tour in the British provinces. Solomon also wrote the music for Quite an Adventure (libretto by Frank Desprez), produced on tour by several D'Oyly Carte companies in the early 1880s, and on tour and at the Savoy in the early 1890s; for Round and Square (libretto by Frank Desprez), produced on tour by Mr. D'Oyly Carte's "C" (Repertory) Company in 1885; and for two works, Billee Taylor and Claude Duval, produced by D'Oyly Carte companies in America.
A prolific composer, he wrote dozens of operas and operettas in his short life. One of the first, A Will with a Vengeance, a comic opera in one-act, was produced at the Globe in 1876 when he was just twenty-one years old. He was musical director at the Royalty Theatre in 1879, conducting Arthur Sullivan's The Zoo, among other works, when he first met Henry Pottinger Stephens.
With "Pot" Stephens he achieved his first big successes:Billee Taylor (Olympic, 1880) and Claude Duval (Olympic, 1881), both of which enjoyed years of popularity on both sides of the Atlantic. Other Stephens & Solomon works were Lord Bateman (Gaiety, 1882), Virginia and Paul (Gaiety, 1883), and The Red Hussar (Lyric, 1889).
Solomon achieved notoriety of a sort for his bigamous marriage to American prima donna Lillian Russell. It ended when she sued for divorce after learning of his previous marriage. "Teddy" Solomon died of typhoid fever in 1895 at the age of 39.
---
S Index | "Who Was Who" Homepage
---