THE D'OYLY CARTE OPERA COMPANY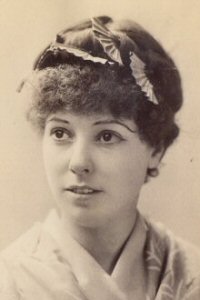 Geraldine St. Maur as Peep-Bo in The Mikado
Geraldine St. Maur (1883-87, 1890-91, 1908-09)
Geraldine St. Maur was a chorister and small part player with several D'Oyly Carte touring companies between 1883 and 1891. Her named parts included Maude Dalgleish in the companion piece Martimony; or, Six and Six When Suited with Mr. D'Oyly Carte's No.1 "Patience" Company (1883), Celia in Iolanthe with Mr. D'Oyly Carte's No.1 "Iolanthe" Company (March-November 1884); Peep-Bo in The Mikado with Carte's First American Mikado Company in New York and Boston (August 1885-May 1886), and again with Mr. D'Oyly Carte's "Continental Company" in Germany and Austria (May 1886-January 1887); Peep-Bo and Lady Saphir in Patience on tour in Germany, Austria, Holland, and Denmark (April-September 1887); Peep-Bo and Fiametta in The Gondoliers with Carte's touring Company "C" (March 1890-April 1891); and Peep-Bo and Casilda in The Gondoliers briefly with Carte's touring Company "E" (November 1891).
When she was away from the D'Oyly Carte organization, Miss St. Maur appeared in London in W. S. Gilbert's adaptation of Offenbach's The Brigands (as Fiametta, Avenue, September 1889), in Dorothy Vernon (a single matinee performance at the Savoy, October 1892), and in several comedies at the Vaudeville in 1893:The Martyr, The Guv'nor, Uncle John, and Smoke.
Many years later she returned to the D'Oyly Carte as a chorister at the Savoy during the Second London Repertory Season (October 1908-March 1909).
---
S Index | "Who Was Who" Homepage
---