THE D'OYLY CARTE OPERA COMPANY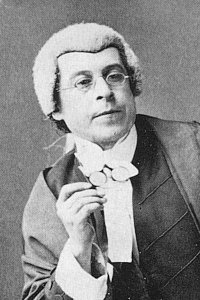 Frederic Sullivan as the Learned Judge in Trial by Jury
Frederic Sullivan (1875)
[Born Lambeth, London 25 Dec 1837, died Fulham 18 Jan 1877]
Frederic Sullivan, elder brother of Arthur Sullivan, was trained as a draftsman, but found his calling as an entertainer. After several appearances as an amateur thespian, he made what may have been his London debut in Robert Reece's burlesque Whittington, Junior, and his Sensation Cat (New Royalty Theatre, November 1870). The following year he was Mr. Cox in his brother's Cox and Box (Alhambra, October 1871). From December 1871 to March 1872, Frederic Sullivan created the part of Apollo in the first Gilbert & Sullivan opera, Thespis, at the Gaiety. After Thespis, he appeared in a number of productions, including Cox and Box, at the Gaiety (1872-74), and appeared at the Holborn Empire in 1874, as well. Fred also went on tour in two F. C. Burnand & Sullivan operas, Cox and Box and The Contrabandista.
Fred Sullivan was on the program in two of the three works of the first D'Oyly Carte production at the Royalty Theatre, London, March 25, 1875. He created the role of the Learned Judge in Trial by Jury, and was Don Andres in Offenbach's La Perichole. He appeared as the Judge at the Royalty, on tour, and then back at the Royalty from March to December 1875. Sullivan also played the Judge in a non-D'Oyly Carte production at the Opera Comique (January-May 1876), and on tour (May-October 1876).
He suffered from chronic ill health, however, and died of liver disease and tuberculosis in 1877 at the age of 39. Arthur Sullivan was at his bedside when his brother died, where, in sorrow, he composed "The Lost Chord."
For further details of Frederic Sullivan's life, see Colin Prestige's "Frederic Sullivan, Thespian" in the September 1971 and January 1972 issues of The Gilbert & Sullivan Journal.
---
S Index | "Who Was Who" Homepage
---