THE D'OYLY CARTE OPERA COMPANY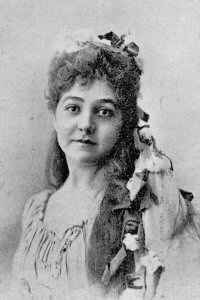 Agnes Taylor
Agnes Taylor (1881-1902)
[Born London, c.1862]
Agnes Matilda Taylor toured with D'Oyly Carte companies for over twenty years from 1881 to 1902. Initially a soprano, she gradually shifted into mezzo-soprano roles in the early 1890s.
Her first named part was Isabel in The Pirates of Penzance with Mr. D'Oyly Carte's "E" Company (August-November 1881). With Carte's No. 2 "Patience" Company (December 1881-June 1884) she appeared regularly as Mrs. Wranglesbury in the curtain raiser Mock Turtles, and from March 1883 forward as the Lady Ella in Patience. She also filled in briefly in April 1883 for Marion Grahame as Patience.
When No. 2 "Patience" was disbanded in June 1884 she transferred to Mr. D'Oyly Carte's "C" (Repertory) Company, appearing as Lady Ella and, once more, as Mrs. Wranglesbury, until December of that year.
In March 1885 Agnes Taylor joined Carte's "E" Company. Except for the six months from December 1887 to June 1888 and the five months between September 1889 and February 1890, she toured with "E" Company for the next seventeen years:until May 1902. She appeared first as Ella in Patience and Celia in Iolanthe (March-May 1885), then as Peep-Bo in the first provincial production of The Mikado (May 1885-March 1887), filling in briefly as Yum-Yum in December 1886. She assumed Yum-Yum as her own from March 1887 until December of that year when the tour finally ended.
We lose track of her from December 1887 to June 1888, during which time she had no roles in H.M.S. Pinafore or The Pirates of Penzance. But in June 1888 when the Company began touring The Mikado again, Miss Taylor was Peep-Bo, and assumed Isabel in The Pirates of Penzance. In November 1888, "E" Company began touring The Yeomen of the Guard exclusively, with Agnes Taylor as Kate. She took up Peep-Bo again when The Mikado was added in April 1889.
After her second absence (September 1889 and February 1890), she returned briefly as Peep-Bo and Kate, then played Casilda in the first provincial production of The Gondoliers. The Mikado joined Gondoliers on tour in November 1890, and she was Peep-Bo once more, and was Celia again when Iolanthe was added in September 1891.
She filled in for Florence Perry as Gianetta in Gondoliers for a spell in January-February 1892, then took the part of Cynthia when The Vicar of Bray replaced The Gondoliers in the repertoire in June 1892. In March 1893 The Vicar of Bray was dropped. Billee Taylor was added in April (Miss Taylor as Susan), then dropped, along with Iolanthe, in May. They were replaced with Haddon Hall (Agnes Taylor as Gertrude). She toured as Gertrude and Peep-Bo until December 1, 1893, when Company "E" gave the first provincial production of Utopia Limited with Miss Taylor as Princess Kalyba.
The Company "E" repertoire began to expand in September 1894, when Utopia was joined by H.M.S. Pinafore (Agnes Taylor, by now a mezzo, as Hebe). Mirette was added in December (Miss Taylor as Bianca), but gave way to The Chieftain in February 1895 (Agnes Taylor taking Dolly Grigg and Rita). Pinafore and Utopia were dropped in March, but Patience was revived in May and Gondoliers took The Chieftain's place in August. Agnes Taylor played the Lady Angela and Casilda in the new operas.
Patience and Gondoliers toured until February 1896 when Company "E" launched the first provincial production of The Grand Duke on March 2, with Agnes Taylor as the Princess of Monte Carlo. Mikado and Gondoliers joined the tour in July (she was Peep-Bo and Casilda again).
The Grand Duke and The Gondoliers were dropped in April and July 1897 respectively. They were replaced by The Sorcerer (in June, Miss Taylor as Constance) and Pinafore (in July, again she was Hebe). She would play Hebe, Peep-Bo, and Phoebe in The Yeomen of the Guard (revived Janaury 1898) throughout 1898, and Constance until June 1898, when The Sorcerer was replaced with The Grand Duchess of Gerolstein, in which she would play Wanda. She also filled from time to time as Elsie Maynard in Yeomen (March 1898) and Yum-Yum in Mikado (December 1898).
The Sorcerer was restored in January 1899, and The Lucky Star joined an expanding repertoire in February. Miss Taylor was again Constance and took the part of Laoula in the latter work. The Grand Duchess and The Sorcerer fell off the bill in April, but in October Haddon Hall was revived for a short time with Miss Taylor this time as Dorcas. In November 1899 both Haddon Hall and The Lucky Star were discontinued, and Trial by Jury was added as a curtain raiser for Pinafore, Agnes Taylor doing double duty as the Plaintiff as well as Hebe.
She toured as the Plaintiff, Constance, Hebe, Peep-Bo, and Phoebe until February 10, 1900. From February 12 onward Company "E" presented The Rose of Persia exclusively with Agnes Taylor as "Honey-of-Life." The Rose of Persia was joined by Patience in January 1901:this time her role was the Lady Saphir. Both operas closed in June, and on July 1 the Company, by then billed as the "Savoy Touring Company," took up The Emerald Isle exclusively, with Miss Taylor as the Susan. They presented The Emerald Isle until May 1902, at which point she left the D'Oyly Carte organization.
Agnes Taylor married D'Oyly Carte musical director Thomas Silver in 1888.
---
T Index | "Who Was Who" Homepage
---