THE D'OYLY CARTE OPERA COMPANY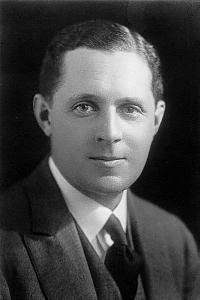 Geoffrey Toye
Geoffrey Toye (m.d., 1919-20, 1921-22, 1924)
[Born Winchester, Hampshire 17 Feb 1889, died London 11 Jun 1942]
Geoffrey Edward Toye studied at the Royal College of Music and, beginning in 1913, conducted in London theatres. He joined the Army in 1914, retired with the rank of Major, and after the war was engaged as conductor of the Beecham Opera Company. Toye also conducted the concerts at the Royal Philharmonic Society (1918-19).
He was engaged by the D'Oyly Carte Opera Company as musical director for three seasons at the Princes Theatre, London:September 1919-January 1920, October 1921-April 1922, and February-July 1924. Toye arranged a new overture for Ruddigore, based on the songs remaining in the opera at the time of its 1920 revival. Toye's overture was used by the D'Oyly Carte Opera Company for the rest of its existence.
Toye became a governor of Sadler's Wells Opera in 1931 and managed the Opera there until 1934, when he became managing director of the Royal Opera, Covent Garden (1934-36).
He later obtained the film rights to the Gilbert & Sullivan operas. Although he originally intended to make The Yeomen of the Guard his first production, the only one he adapted, produced, and conducted was The Mikado (1938).
He was also a composer of some distinction. His compositions included several books of songs, a symphony, and two ballets. His ballet, The Haunted Ballroom, is the best known of his compositions.
His niece, Jennifer Toye, was a D'Oyly Carte soprano in the 1950s and '60s.
---
T Index | "Who Was Who" Homepage
---