THE D'OYLY CARTE OPERA COMPANY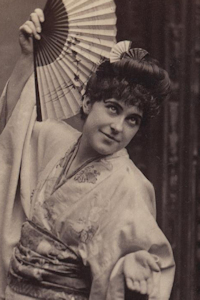 Geraldine Ulmar as Yum-Yum in The Mikado
Geraldine Ulmar (1885-86, 1887-90)
[Born Charlestown, Massachusetts 23 Jun 1862, died Merstham, Surrey 13 Aug 1932]
Annie Geraldine Ulmar began her singing career in amateur concerts before she was a teenager. She made her professional stage debut as Josephine in H.M.S. Pinafore on a ship in a lake in Boston's Oakland Garden in August 1879. Later that year she joined the Boston Ideal Opera Company as an emergency replacement Josephine, and remained with the Ideals as leading soprano for the next six years.
Miss Ulmar then auditioned with Sir Arthur Sullivan and was selected to play Yum-Yum in Carte's First American Mikado Company, opening at the Fifth Avenue Theatre, New York, in August 1885. She played Yum-Yum for American audiences for the duration of the run (through May 1886), sang Yum-Yum and Josephine in H.M.S. Pinafore in Liverpool and Manchester that month, then appeared with Carte's "G" Continental Company in Germany as Yum-Yum in June before returning to America.
There her services were lent to John Stetson, the American manager, in the autumn of 1886, and she played in Carte-sanctioned productions of Princess Ida (in the title role) and The Mikado (as Yum-Yum) in New York (November-December 1886) and Patience in Boston (January 1887, as Patience).
She then returned to England and the D'Oyly Carte to rehearse the new opera, Ruddygore, gave two matinee performances as Rose Maybud at the Savoy, and then sailed for New York again, playing Rose there from February through April 1887. In May 1887 she was summoned to London to assume the part of Rose at the Savoy. She subsequently appeared at the Savoy in the first London revivals of H.M.S. Pinafore (November 1887-March 1888) as Josephine, The Pirates of Penzance (March-June 1888) as Mabel, and The Mikado (June-September 1888) as Yum-Yum.
On October 3, 1888, she created the part of Elsie Maynard in the first production of The Yeomen of the Guard. She would play the role throughout the run at the Savoy (October 1888-November 1889), then go on to create the part of Gianetta in The Gondoliers (starting December 1889) before leaving the Savoy and the D'Oyly Carte in June 1890.
She next appeared on the London Stage as Marton in La Cigale (Lyric, 1890-1891), then as Teresa in Gilbert & Cellier's The Mountebanks (Lyric, 1892) and Guinevere Block in Little Christopher Columbus (Lyric and Terry's, 1893-94). From July 1896 she toured as O Mimosa San in The Geisha with George Edwardes's No. 1 "Geisha" Company.
After appearing as Jane Jingle in Ladyland (Avenue, 1904) she retired from the stage and devoted herself to teaching singing. She was married for a time in the 1890s to composer-conductor Ivan Caryll.
---
U-V Index | "Who Was Who" Homepage
---