THE D'OYLY CARTE OPERA COMPANY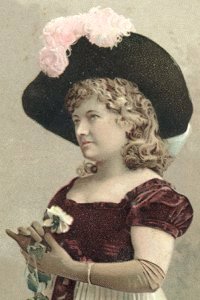 Linda Verner
Linda Verner (1875-76, 1884)
[Born c.1855, died South Africa 24 Aug 1892]
Linda Verner, real name Hannah Sarah Palmer, was on the program in all three works of the first D'Oyly Carte production at the Royalty Theatre, London, March 25, 1875. She was the first bridesmaid in Trial by Jury, Polly in Charles Collette's Cryptoconchoidsyphonostomata, and Guadelen and Mannelita in Offenbach's La Perichole. Miss Verner also appeared as Cecile in The Secret, a piece that shortly replaced Cryptoconchoidsyphonostomata on the Royalty bill. In July 1875 she was promoted to the Plaintiff in Trial, replacing Nellie Bromley who had reportedly fallen out of favor with directress Selina Dolaro.
Miss Verner remained as the Plaintiff at the Royalty and on tour throughout the remainder Carte's management (which ended in October 1875). When the Company returned to the Royalty in October under Charles Morton's management, she continued to appear as the Plaintiff through December 18, 1875. Between February and March 1876 at the Globe and Charing Cross Theatres, under the joint management of Carte and George Dolby, Miss Verner appeared as Susan in A Blighted Being and Michel in The Duke's Daughter.
Over the next fifteen years Miss Verner performed from time to time on London and provincial stages. She even returned to the D'Oyly Carte organization briefly in August 1884, filling in for Minna Louis as Lady Psyche on tour with Mr. D'Oyly Carte's "D" ("Princess Ida" No. 1) Company.
She eventually went on to work for George Edwardes, former D'Oyly Carte manager, on tour in America (November 1888 to June 1889), and later at the Gaiety in London--appearing there in Ruy Blas or the Blase Roue (1889-90), Joan of Arc (1891), and That Lady in Pink (January-March 1892). She was then sent with a Gaiety burlesque company to South Africa, where she died suddenly in August 1892. Edwardes and Gaiety star Fred Leslie worked hard to raise the then-impressive sum of £100 for the children she left behind.
---
U-V Index | "Who Was Who" Homepage
---