THE D'OYLY CARTE OPERA COMPANY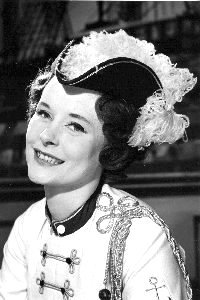 Pauline Wales as Hebe in H.M.S. Pinafore
Pauline Wales (1959-74, 1974-75)
[Born Stockton-on-Tees, County Durham 1938]
Before joining the D'Oyly Carte Opera Company chorus in March 1959, Pauline Wales had sung in oratorios, amateur opera, and musical comedy in the north of England. She assumed the small part of Isabel in The Pirates of Penzance in May 1960 and over time gradually expanded her repertoire to include many small, and some larger, named parts.
She added Leila in Iolanthe in September 1960, filled in on occasion as Hebe in H.M.S. Pinafore in the 1960-61 season, then Melissa in Princess Ida when that opera was revived in November 1961. During the 1961-62 season she filled in on occasion for Joyce Wright as Phoebe Meryll in The Yeomen of the Guard.
In September 1963 she added Hebe in Pinafore and Vittoria in The Gondoliers to her regular duties, and during the two seasons spanning 1963-65 filled in from time to time as the Lady Saphir in Patience, Pitti-Sing in The Mikado, and Tessa in The Gondoliers.
In July 1965, following the departure of Gillian Humphreys, Pauline Wales took on an expanded repertoire:First Bridesmaid in Trial by Jury, Hebe in Pinafore, Kate in The Pirates of Penzance, Saphir in Patience, Leila in Iolanthe, Melissa in Princess Ida, Peep-Bo in The Mikado, Ruth in Ruddigore, and Tessa in The Gondoliers. During the next ten years she would fill in on occasion as Iolanthe in Iolanthe and Phoebe in Yeomen.
Over time Miss Wales would give up some of her smaller parts:First Bridesmaid in 1968, Ruth in 1970, and then in July 1973 Leila and Peep-Bo. She left the Company in February 1974 but returned briefly as guest artist between December 1974 and March 1975, appearing as Melissa in Princess Ida for the D'Oyly Carte Centenary Season at the Savoy.
During her time with the Company Miss Wales recorded Leila (1960 Iolanthe), Kate (1968 Pirates), Hebe (1971 Pinafore), and Peep-Bo (1973 Mikado) for Decca. She also participated in 1965 BBC television broadcast of Patience as Saphir, the 1966 film version of The Mikado as Peep-Bo, and the 1973 ITV broadcast of H.M.S. Pinafore as Hebe. He may also be heard on two recordings of excerpts made in 1965 and 1970.
Her appearances since leaving the D'Oyly Carte Opera Company have included an engagement with Kent Opera as Mad Margaret in Ruddigore, and many performances with "Gilbert & Sullivan for All." She has taught singing in Radcliffe-on-Trent, where she also directed the Radcliffe Ladies Choir.
She was at times married to D'Oyly Carte chorister John Maguire and principal baritone Thomas Lawlor.
---
W Index | "Who Was Who" Homepage
---