THE D'OYLY CARTE OPERA COMPANY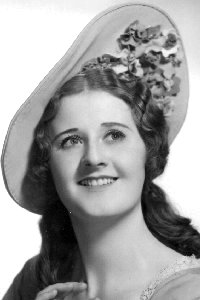 Viola Wilson as Patience in Patience
Viola Wilson (1938-39)
[Born Pressburg, Austria-Hungary 1 Nov 1911, died Melbourne, Australia 6 Feb 2002]
Viola Wilson, whose real name was Viola Hogg, studied singing for six years at the Scottish National Academy of Music. In 1935 she was engaged by the Carl Rosa Opera Company and sang in the chorus of Die Fledermaus at the Lyceum Theatre, London. After tours of the British Isles and South Africa, she graduated to principal soprano.
Upon returning to London she auditioned with D'Oyly Carte Opera Company and was given a year's contract as principal soprano, taking Viola Wilson (her maternal grandfather's name) as her stage name at Rupert D'Oyly Carte's suggestion. From May 1938 to June 1939 she appeared with the Company as Patience in Patience, Phyllis in Iolanthe, Yum-Yum in The Mikado, and Gianetta in The Gondoliers. Three of these parts were shared with other artists at various times:Patience and Phyllis with Ann Drummond-Grant until December 1938, and Gianetta with Helen Roberts. Miss Wilson also appeared on occasion in 1938-39 as Rose Maybud in Ruddigore and Elsie Maynard in The Yeomen of the Guard. She left the D'Oyly Carte in June 1939.
Viola Wilson then accepted an offer from Nevin Tait, J. C. Williamson's London director to tour Australia and New Zealand in the Gilbert & Sullivan operas. In the 1940-42 Williamson tour she appeared as Aline in The Sorcerer, Josephine in H.M.S. Pinafore, Mabel in The Pirates of Penzance, Casilda in The Gondoliers, Princess Ida in Princess Ida, Rose, Patience, Phyllis, and Elsie. While in Australia, she met and married Frank Tait, later Sir Frank, the youngest of the five Tait brothers who were then running the Williamson Company. She retired as a singer in 1946 but remained involved with the Williamson Company, serving for a time as an artistic director.
Following Sir Frank Tait's death in 1965, Lady Viola Tait, as she was then known, wrote an informal history of the Williamson-Tait partnership. In "A Family of Brothers: The Taits and J. C. Williamson; a Theatre History" (William Heinemann, Melbourne, 1971) she also provides a good deal of information about her own life and career.
Lady Tait retained her interest in the performing arts thoughout her life and was a patron of many arts organizations, including the Tait Memorial Trust. She was instrumental in the establishment of the Performing Arts Museum in Melbourne, and was appointed a member of the Order of Australia (AM) in 1990. In her later years she published a book on the history of pantomime in Australia, "Dames, Principal Boys...and All That" (Macmillan, Melbourne, 2001).
---
W Index | "Who Was Who" Homepage
---