THE D'OYLY CARTE OPERA COMPANY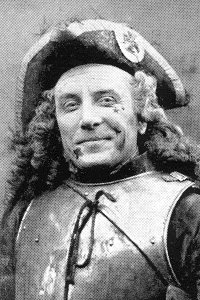 Frank Wyatt as the Duke of Plaza-Toro in The Gondoliers
Frank Wyatt (1889-91)
[Born Greenwich 7 Nov 1852, died London 5 Oct 1926]
Born Francis Nevill Gunning, and trained as an artist at the Royal Academy, Frank Wyatt worked for a time as an illustrator on the staff of The Illustrated Sporting and Dramatic News.
He made his theatrical debut with a one-line part in W. S. Gilbert's farce On Bail at the Criterion in February 1877. For the next twenty years he was continuously before the public in a large variety of parts at most of the leading London theatres. After appearances in farce, burlesque, character-acting, and even (briefly) the classics (Twelfth Night), Wyatt eventually found his niche as a comic opera comedian. Following successes in Ermine and Paul Jones, Wyatt was engaged by D'Oyly Carte to create the role of the Duke of Plaza-Toro in the first production of The Gondoliers at the Savoy, December 1889-June 1891.
After The Gondoliers Wyatt created the part of Baboo Currie in Dance & Solomon's The Nautch Girl, remaining in the role until December 1891, though he missed a number of performances in the autumn due to illness. He was replaceced by Fred Storey in December when Wyatt's two-year engagement with the D'Oyly Carte was up. He next appeared at the Lyric as Arrostino Annegato in Gilbert & Cellier's The Mountebanks (January-July 1892), and at the Criterion as Woodpecker Tapping in Gilbert & Grossmith's Haste to the Wedding (July-August 1892).
Wyatt was married to Violet Melnotte, an actress and theatre manager who had herself appeared under D'Oyly Carte management in Carte's own Happy Hampstead. The Trafalgar Square Theatre (later known as the Duke of York's) was built for them in 1892, and though the Theatre went through several managements, it ultimately reverted to the Wyatts. In addition to acting and managing, Frank Wyatt did a bit of dramatic authorship. His best known works were the plays The Two Recruits and Our Regiment, both of which were produced at Toole's Theatre under his wife's management. A detailed summary of his writings may be found in Michael Walters' article "The little known writings of the Duke of Plaza Toro" in the Summer 1997 issue of the W. S. Gilbert Society Journal.
---
W Index | "Who Was Who" Homepage
---