THE D'OYLY CARTE OPERA COMPANY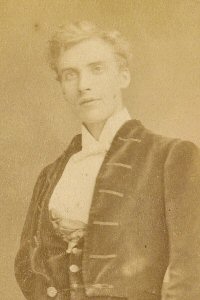 J. Duncan Young as Earl Tolloller in Iolanthe
J. Duncan Young (1880-86)
[Born Taybridge, Scotland c.1859, died Tooting Bec, London 12 Dec 1932]
James Duncan Young took his first D'Oyly Carte part, Digby Chicken in the curtain-raiser Six and Six, with D'Oyly Carte's "D" (later "E") Company, between December 1880 and November 1881.
In December 1881, the Company (now named Mr. D'Oyly Carte's "Patience" No. 2 Company) took up the new aesthetic opera and Young gave at least a few performances in December and January as the Duke of Dunstable.His only regular role with "Patience" No. 2, however, was Mr. Wranglebury in the companion piece Mock Turtles.
The "Patience" No. 2 tour ended in December 1883, and the following February Young joined Carte's "E" (also known as "Iolanthe" No. 2) Company as Earl Tolloller in Iolanthe."E" Company added Patience in July 1884 with Young as the Duke, and in May 1885 dropped both operas to give the first provincial production of The Mikado with Young as Nanki-Poo.
Young was succeeded as Nanki-Poo by Charles Conyers in August 1885 and soon joined the main Company at the Savoy as a chorister. Shortly thereafter, in 1886, he married principal soprano Leonora Braham.
Young shortly left the D'Oyly Carte and went on to appear with Mr. & Mrs. German Reed as Eustace Appleby in a piece by J. Comyns Carr & King Hall called The Naturalist (St. George's Hall, April-July 1887).Miss Braham had left the Savoy in March 1887 to give birth to their son. They traveled to Australia later that year, appearing there in a number of operas:Young appearing in 1888 Australian productions of H.M.S. Pinafore (as Ralph Rackstraw), Iolanthe (as Tolloller), and Princess Ida (as Prince Hilarion).
The Youngs returned to England in the summer of 1888. J. Duncan Young's only subsequent London role was again with the German Reeds--as Professor Thyme in Malcolm Watson & Edward Solomon's operetta Tuppins & Co. (St. George's Hall, October-December 1889).
Young was later stage manager and producer for Miss Braham's tours of South Africa with Edwin Cleary's English Comic Opera Company in the 1890s.They were, according to Miss Braham's recollections in The Gilbert & Sullivan Journal (October 1926), the "means for righting a wrong" by arranging the payment of royalties by the South African managers to Gilbert, Sullivan, and Carte for the use of the Gilbert & Sullivan operas. On at least one occasion, he was called upon to appear on stage as an emergency replacement--in the baritone part of Samuel in The Pirates of Penzance in August 1890.
The Youngs were forced to live apart in later years, he confined to a nearby hospital.He survived her by just under one year.
---
Y - Z Index | "Who Was Who" Homepage
---