You are here: Archive Home > The Yeomen of the Guard > Cut Songs
Cut Songs
---
We have MIDI files and piano/vocal scores of two songs which Gilbert and Sullivan cut from Act I of The Yeomen of the Guard . Although cut by the authors of the piece, some modern productions have chosen to restore one or other, or both, these songs.
Wilfred (W.H. Denny) & Phoebe
(Jessie Bond) in the original production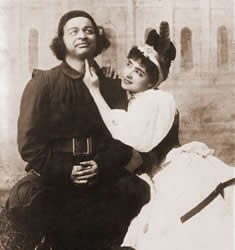 When Jealous Torments
Among Gilbert's papers in the British Museum is a "Summary of Incidents. Act I.," followed by "Opening of Act II — amended version" which Ainger (Michael Ainger, Gilbert and Sullivan, A Dual Biography, Oxford, 2002) dates to sometime after an exchange of correspondence between Gilbert and Sullivan in mid-August 1888. The Act I summary includes this song which is headed "Barrington (sung to J. Bond)" By the time of the opening of Yeomen, Barrington had left the Savoy to try his hand at theatrical management and the part of Wilfred Shadbolt was created by a newcomer, W. H. Denny. Bradley (Ian Bradley, The Annotated Gilbert and Sullivan 2, Penguin, 1984) suggests that the song was cut because Barrington was no longer available to sing it. This may be part of the reason, but cutting this song seems wholly consistent with the arguments put forward for the removal of Meryll's solo. This song was not performed during the initial run of Yeomen at the Savoy.
A Laughing Boy
Richard Temple as Sergeant Meryll in the original production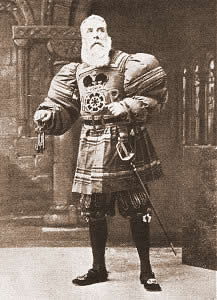 This song was intended to be sung by Richard Temple, who played Sergeant Meryll in the original production.
At the final dress rehearsal for The Yeomen of the Guard there had been some tension between Gilbert and Sullivan. Sullivan noted in his diary for 2nd October 1888:
Full dress rehearsal at 4. Over at 10. Everything went smoothly. Another irritable passage with Gilbert á propos of Temple's song. Am anxious myself to cut it but object to being hectored in the matter. All supped at Carte's afterwards.
The following morning Gilbert sent a letter to Sullivan by messenger:
I desire before the production of our piece to place upon record the conviction that I have so frequently expressed to you in the course of rehearsal, that unless Meryll's introduced and wholly irrelevant song is withdrawn, the success of the first act will be most seriously imperilled.
Let me recapitulate:
The act commences with Phoebe's song — tearful in character. This is followed by entrance of warders — serious and martial in character. This is followed by Meryll's song — sentimental in character. This is followed by the trio for Meryll, Phoebe and Leonard — sentimental in character.
Thus it is that a professedly comic opera commences.
I wish to accentuate the hint that I gave you on Friday that the Warder's couplets in the finale are too long, and should be reduced by one half. This, you will observe, is not 'cutting out your music,' but cutting out a repeat of your music. And I may remind you that I am proposing to cut, not only your music, but my words. Also that I write not as an author but as an expert in stage management.
Gilbert and Sullivan met at the theatre just before curtain up to arrange a compromise. Sullivan's diary records the opening night thus:
Tired and nervous. Drove to the theatre at 8 to meet Gilbert and settle one or two points — arr. to cut down 2nd verse of couplet in Finale; to leave in Temple's song for the first night. Crammed house — usual enthusiastic reception. I was awfully nervous and continued so until the duet 'Heighdy' which settled the fate of the opera. It's success was tremendous; 3 times encored! After that everything went on wheels, and I think its success is even greater than the Mikado. 9 encores.
---
---
Archive Home | The Yeomen of the Guard
Page Created 27 August, 2011
Copyright © 2008 The Gilbert and Sullivan Archive. All Rights Reserved.