Costume design by Percy Anderson, 1919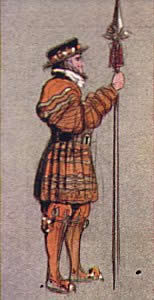 The Yeomen of the Guard, or The Merryman and His Maid, opened October 3, 1888, at the Savoy Theatre and ran for 423 performances. It is different from the other Gilbert and Sullivan operas in that it ends with a broken-hearted main character and at least two reluctant engagements, rather than the usual plethora of happy marriages. However, Gilbert finds plenty of opportunity to introduce comedy into his libretto.
Many believe that the score is Sullivan's finest. Indeed, some enjoy Yeomen particularly because of its ever-changing emotional balance of joy and despair, love and sacrifice.
The setting of
Yeomen
is the Tower of London in the sixteenth century. The plot concerns Colonel Fairfax, a gentleman, soldier and scientist, who has been sentenced to death on a false charge of sorcery. To avoid leaving his estate to his accuser (a cousin), and with the help of the Lieutenant of the Tower, Fairfax secretly marries Elsie Maynard, a strolling singer. The bride agrees to be blindfolded during the ceremony and expects to be a well-paid widow within the hour. With the help of the Meryll family, Fairfax escapes, throwing the Tower into confusion and the astonished Elsie (and her companion, the jester Jack Point, who is in love with her) into despair. But Fairfax, disguised as Leonard Meryll, woos Elsie, and after a number of plot complications are worked out, she falls in love with Fairfax and leaves Jack Point broken-hearted.
Savoynet Discussion — Transcript of a discussion of The Yeomen of the Guard by members of the SavoyNet distribution list (May 1997). This extensive discussion provides substantial background information on this opera, and is a must for anyone wanting to understand it better, produce it, or perform in it.
From Maritana to Yeomen. An examination of Wallace, his bizarre life, and his opera which was the inspiration for The Yeomen of the Guard by Michael Walters.
Page modified 14 May 2015