Artists appearing at the 1878 and 1879
Covent Garden Promenade Concerts
Beumer, Dyna (1856-1934), soprano
Described by French composer Vincent d'Indy (1851-1931) as "un peu vinaigrette", Belgian soprano Dyna Beumer was not slow to withhold her opinions of contemporary composers, famously proclaiming La Procession by César Franck (1822-1890) "a bore". By the time of her American appearance in 1897, her voice had not worn well: "a colorature [sic] singer that never had a very great hold on the public. Her voice is a very light soprano, of excellent natural quality and of much flexibility. She executes runs, trills, and similar ornaments of song with the most facile smoothness and with a perfect clearness that is entirely commendable. But that is about all that can be said in favor of her art. The registers of her voice are nor perfectly equalized and she exaggerates the defect by a vicious tone production, which keeps the quality of her voice constantly changing as she runs up and down the compass. Her upper notes are very open and ghostly white in timbre. She carries the white voice down into her middle register very often, and gives her tones a hollow sound. Her attack is uncertain, being good at times, and again so bad that the stroke of the glottis gives out a guttural cluck. She phrases well, and she sang in tune last night" (New York Times, 10th November 1897). In 1925 Beumer encouraged Lily Pons (1898-1976) to take singing lessons.
Boyle, Frank (1857-1892), tenor
Born in Barnstaple, Frank Boyle studied violin and organ locally before winning the Corporation of London Scholarship to study singing at the National Training School, South Kensington. He performed in the Good Friday performance of The Messiah at the Albert Hall in 1880 and also at the 1882 Hereford Three Choirs Festival, before joining the D'Oyly Carte organisation, touring first with 'A' and 'C' companies in 1884 and then in Australia between 1885 and 1886. He died from a burst blood vessel in the lungs at the age of thirty-four.
'Brocolini, Signor' (1841-1906), bass
Born in County Cork, Ireland, John Clark and his family emigrated to America during the Potato Famine, settling in Brooklyn, New York around 1853. Beginning a singing career in the late 1860s, Clark eventually travelled to Milan to study, adopting the name 'Brocolini' in honour of the borough in which he grew up. Following his arrival in England, he toured with Therese Tietjens (1876) and sang leading roles at Her Majesty's Theatre and Covent Garden. He joined a D'Oyly Carte touring company in 1879, before returning to New York to create the part of the Pirate King in the American production of The Pirates of Penzance (31st December 1879). Throughout the 1880s he continued to play in American productions of Gilbert & Sullivan's operas, before rheumatism curtailed his stage career. Subsequently he became a music critic and occasional composer.
Cole, Blanche (1851-1888), soprano
Primarily known as an operatic performer, Portsmouth-born Blanche Cole was for many years a popular singer with the Carl Rosa organisation, also touring with her own company in 1879 and appearing with the Royal English Opera Company in 1882.
Davies, Mary (1855-1930), mezzo-soprano
Born in London, of Welsh parents, Mary Davies took singing lessons with Edith Wynne and later studied under Alberto Randegger at the Royal Academy, winning the Parepa-Rosa Gold Medal (1876) and the Nilsson prize (1877). Her prominent early appearances included the Three Choirs Festivals at Worcester (1878) and Gloucester (1883), besides taking part in the first complete performance in England of Berlioz' Faust (Hallé Concerts, Manchester, 1880). Passionate about her heritage, she was instrumental in the establishment of the Welsh Folk Song Society (1906), becoming its first President.

'Essipoff, Anna' (Anna Yesipova, 1851-1914), pianist
Anna Yesipova's debut as a concert pianist in her native St Petersburg (1871) drew enthusiastic praise from both Tchaikovsky and Liszt and led to concert tours of Russia, Western Europe and America. Renowned for her stamina and wide repertoire, ranging from Mozart and Beethoven to Liszt and Rubinstein, she earned a legendary reputation (Josef Hofmann remarked "I should go to Yesipova to learn to play Chopin's mazurkas"). From 1893 she taught at the St Petersburg Conservatory, numbering amongst her pupils Sergei Prokofiev (1891-1953). She made recordings using the Welte-Mignon reproducing piano, including the Verdi-Liszt Rigoletto Paraphrase (1906).
'Federici, Frederick' (1851-1888), bass
Born Frederick Baker in Florence, Italy, 'Federici' played the rôles of The Pirate King in the single copyright performance of The Pirates of Penzance at Paignton (30th December 1879) and the Mikado in New York (1885). In February 1887 he briefly appeared at the Savoy as Sir Despard Murgatroyd in Ruddigore, before returning to create the part in America. That same year, he travelled to Australia, appearing as Florian in the first Australian production of Princess Ida. On 3rd March 1888, the first night of a new production of Gounod's Faust at the Princess's Theatre, Melbourne, he sang the role of Mephistopheles: as he descended through the trap door at the final curtain he suffered a massive heart-attack and died instantly. His ghost is said to haunt the theatre to this day.
Hallé, Charles (1819-1895), pianist
Born Karl Halle in Hagen, Westphalia, Germany, Hallé settled in Paris in 1836 where he met Chopin, Liszt, Berlioz and Cherubini. Following the 1848 Revolution, he moved to England and settled in Manchester. There he conducted a series of orchestral concerts and began to give piano recitals. In 1850 he began to appear in London, his first engagement with the Philharmonic Society occurring in March 1852. In 1861 he played the cycle of Beethoven sonatas over eight concerts at St James's Hall to great acclaim, repeating the feat during the following two years. On 22nd January 1863 Hallé entertained Sullivan as his guest in Manchester when he conducted the composer's Incidental Music to The Tempest. Many years later he would give the first Manchester performance of The Golden Legend (10th March 1887). He also conducted the Bristol Festival between 1873 and 1893 and succeeded Max Bruch to the conductorship of the Liverpool Philharmonic Society in 1883. Knighted in 1888, he married the celebrated violinist Wilma Neruda (1838-1911) in the same year.
Hersee, Rose (1845-1924), soprano
Born in London, Rose Hersee made her concert debut at the age of eleven, subsequently studying under Manuel Garcia and Arditi. She travelled to America in 1869 to join a tour by the Carl Rosa Company, later singing operatic rôles in Australia, New Zealand and South Africa (1878-80). At the third concert of the Philharmonic Society's 1886 season (1st April), Sullivan conducted her in music by Lotti and Meyerbeer.
Hollman, Josef (1852-1927), 'cellist
Josef (or Joseph) Hollman was a celebrated Dutch 'cellist, caricatured by Vanity Fair in 1897. On 5th July 1891 he and Sullivan participated in a musical soirée at Blenheim Palace, alongside Edward Lloyd and Mrs Ronalds. Hollman was the dedicatee of Camille Saint-Saëns' second 'Cello Concerto (1902).
King, Frederick (1853-1933), baritone
Following his studies at the National Training School (1876), Frederick King embarked on a successful concert career, appearing during the 1879 Covent Garden Promenade season (12th August, 27th August, 3rd September) and at the Birmingham (1879) and Gloucester (1880) Festivals. He sang in the Leeds Festival premieres of Sullivan's The Martyr of Antioch (1880, Callias) and The Golden Legend (1886, Lucifer), also performing at successive Handel Festivals (1880-1882) and taking the rôle of Mephistopheles in the first English performance of The Damnation of Faust by Berlioz (Royal Albert Hall, 1882). In 1890 he was appointed a professor of singing at the Royal Academy, where his pupils included Robert Radford (1874-1933) and Norman Allin (1884-1973).
Miss Lawrence was a pupil of celebrated pianist Arabella Goddard (1836-1922).
Lloyd, Edward (1845-1927), tenor
A chorister at Westminster Abbey in his youth and later a Gentleman of the Chapel Royal, Edward Lloyd was one of the most celebrated tenors of his day. He rose to prominence following his performance in Bach's St Matthew Passion at the 1871 Gloucester Three Choirs Festival, becoming the natural successor to Sims Reeves (1821-1900). Lloyd created the rôles of Olybius in Sullivan's The Martyr of Antioch (Leeds, 1880) and Prince Henry in The Golden Legend (Leeds, 1886), also participating in Sullivan's Philharmonic Society concerts on 22nd April 1885, 9th June 1887 and 25th June 1887. He later sang in the first performances of Parry's Judith (Birmingham, 1888) and King Saul (Birmingham, 1894), Stanford's Requiem (Birmingham, 1897) and Elgar's The Light of Life (Worcester, 1896), King Olaf (Hanley, 1896), Caractacus (Leeds, 1898) and The Dream of Gerontius (Birmingham, 1900). Lloyd made many recordings between 1904 and 1911, including Come, Margherita, come from The Martyr of Antioch.
McGuckin, Barton (1852-1913), tenor
Born in Dublin, McGuckin enjoyed a long career on both concert platform and operatic stage. From the 1879 Hereford Festival onwards, he was constantly in demand as a concert singer, appearing at the third concert of the Philharmonic's 1887 season (21st April) conducted by Sullivan. For the Carl Rosa Opera Company he created rôles in many significant British works including Arthur Goring Thomas's Esmeralda (1883, Phoebus) and Nadeshda (1885, Waldemar), Alexander Mackenzie's Colomba (1883, Orso) and The Troubadour (1886, Guillem de Cabestanh), Frederick Corder's Nordisa (1887, Oscar) and Frederic Cowen's Thorgrim (1891, Thorgrim). He also appeared as the title character in the brief revival of Sullivan's Ivanhoe at the Royal English Opera House (1892). He made a few recordings, including Avenging and bright by Moore.
Marriott, Annie Augusta (b.1859), soprano
Annie Marriott was born in Nottingham and studied at the National Training School, Kensington. Following engagements to perform during the 1879 Promenade season (including 11th and 20th August) she went on to sing at the Worcester (1881) and Leeds (1883) Festivals. Further highlights of her career included the 1885 Handel Festival and the first performance of Stanford's Jubilee Ode at Buckingham Palace in the presence of Queen Victoria (11 May 1887).
Maybrick, Michael (1841-1913), baritone
After briefly serving as organist at St. Peter's Church in his home-town Liverpool (1858), Maybrick went to Leipzig in 1866 to study piano under Moscheles, Plaidy and Richter. Later turning his attention to singing, he appeared at the London Oratorio Concerts in February 1869, the New Philharmonic (1870) and the Brighton Festival (1876) before touring the United States and Canada (1884). Under the pseudonym of 'Stephen Adams' he wrote many songs, some of which enjoyed extraordinary popularity, including The Holy City, Nancy Bell, A Warrior Bold, Sweet Kildare and Romany Lass.
Montigny-Rémaury, [Fanny Marcalline] Caroline
(1843-1913), pianist
Sister-in-law of the composer Ambroise Thomas (1811-1896), virtuoso pianist Caroline Montigny-Rémaury was a pupil of Franz Liszt. Camille Saint-Saëns, who often played duets with Madame Montigny-Rémaury, wrote his Wedding-Cake Caprice to celebrate her second marriage in 1885, and his Left-hand Etudes (1912) following a serious injury that curtailed her career. She was also the dedicatee of Gabriel Pierné's Fantasie-Ballet (1885).
Orridge, Ellen Amelia (1856-1883), contralto
Born in London, Orridge studied under Manuel Garcia at the Royal Academy, winning the Llewellyn Thomas gold medal for declamatory singing (1877) and gaining both the Nilsson and the Parepa-Rosa prizes in 1878. She quickly built a promising career, appearing at the Philharmonic Society (Beethoven's Choral Symphony, February 1882) and the Crystal Palace, but succumbed to typhoid fever whilst on the island of Guernsey at the age of only twenty-seven.
Osgood, Emma Aline (1849-1911), soprano
Born in Boston, USA, Osgood travelled to England in 1875, making her debut at the Crystal Palace. She sang in a performance of Sullivan's The Light of the World at Liverpool (December 1879) and at a state concert at Buckingham Palace in 1880, also appearing at the Leeds Festival that year. She was the dedicatee of Sullivan's song My Dearest Heart (1876).
Patey, Janet [Monach] (1842-1894), contralto
Following her debut at Birmingham Town Hall (1860), Patey studied under Mrs Sims Reeves and Ciro Pinsuti (1829-1888). Her appearance at the 1866 Worcester Festival was the beginning of an illustrious concert career, singing at Birmingham (1867) and Norwich (1869). She performed extensively in America (1871) and Australia (1890). On 22nd January 1876 she sang under Sullivan's direction at the opening of the Royal Aquarium, London. She created the roles of Julia in Sullivan's The Martyr of Antioch (Leeds, 1880) and Ursula in The Golden Legend (Leeds, 1886), also appearing at the fourth concert of Sullivan's 1887 Philharmonic season (5th May) singing pieces by Gluck and Sarti. In December 1893, she undertook a farewell tour, but collapsed after singing at a concert on 27th February 1894 (Albert Hall, Sheffield) and died the following morning. Sullivan dedicated his songs Golden Days (1872), Sleep My Love (1874) and A Shadow (1886) to her.
Reynolds, Howard (1848-1898), cornet-player
An acknowledged virtuoso on the cornet-à-pistons, Reynolds was a regular member of the orchestra assembled for the Covent Garden Promenade Concerts.
Santley, Charles (1834-1922), baritone
The most celebrated native baritone throughout most of the Victorian era, Liverpool-born Charles Santley made his debut in Haydn's Creation in 1857. Later renowned for his interpretation of Mendelssohn's Elijah, his success was such that he was immediately in demand as a concert singer, appearing regularly at the Leeds (1858-1886), Birmingham (1861-1891) and Three Choirs (1863-1894) Festivals. He participated in the first performances of Sullivan's Kenilworth (Birmingham, 1864), The Prodigal Son (Worcester, 1869) and The Light of the World (Birmingham, 1873). At the sixth concert of the 1885 Philharmonic season (20th May), Santley was the baritone soloist when Sullivan conducted an orchestration of his early Ode I wish to tune my quiv'ring lyre. He returned for the 1887 season, singing Mozart and Purcell under Sullivan's direction (19th May). An operatic debut in Meyerbeer's Dinorah (Covent Garden, 1859) led to successful appearances in Verdi's Il Trovatore (Covent Garden, 1862, The Count of
Luna), and Nicolai's The Merry Wives of Windsor (Her Majesty's, 1864, Ford), before he began a long association with the Carl Rosa company dating from 1875. From 1894 he turned increasingly to teaching, including amongst his pupils the Australian Peter Dawson (1882-1961). On 1st May 1907 a grand celebration was held at the Royal Albert Hall to commemorate Santley's half-century career. Later in the same year he was awarded a knighthood. He composed a large-scale Mass in A flat and recorded numerous songs including To Anthea and Simon the Cellarer in 1903. Santley was the dedicatee of Sullivan's song O Mistress Mine (1866).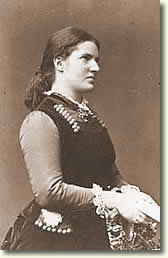 Sterling, Antoinette (1850-1904), contralto
Born in Sterlingville, Jefferson County, Antoinette Sterling began to study singing in New York (1867) before travelling to Europe to receive instruction from Mathilde Marchesi in Cologne and Pauline Viardot-Garcia in Baden-Baden. Her first appearance in England was at a Covent Garden Promenade Concert conducted by Sir Julius Benedict (1873). During the 1886 Philharmonic season, she sang at the fifth concert (19th May), conducted by Sullivan. Although her repertoire encompassed Bach, Mendelssohn and Schumann, her real reputation was as a singer of declamatory ballads such as The Three Fishers, The Sands of Dee, The Three Ravens and, of course, Sullivan's The Lost Chord (1877). Deeply religious, she was a noted philanthropist.
Little is known about Alma Verdini, but clearly she was not all that she appeared to be: "[A London correspondent] notices the début of Mlle Verdini, hinting that she may be an American. Such, indeed, was the legend which she liked to have told about her two years ago, when I wrote from Paris of her magnificent voice and entire want of musical education. It was quite a romance: she had been stolen by gypsies near New-York, had wandered with mountebanks all over both continents, dancing and tight-roping and tumbling at provincial fairs, and at last had been reclaimed by her disconsolate parents from the booth of a suburban juggler. It was a pretty story, but utterly without foundation. Alma Verdini is a pseudonym; she is the daughter of that notorious enameler by whom ladies on the wane were made 'beautiful forever'; she was discovered by Signor Muzio [Emanuele Muzio, 1825-1891], who, failing to make a rival to Patti, as he might have done if she had minded to study, which she would not, left her to her own devices; her real name is Leontine Rachel, and she used to keep a perfumery shop on the Boulevard Hausseman for the sale of her mamma's specialities. This is history; anything else mere fable." (New York Times, 22nd December 1881)
Viardot, Paul (1857-1941), violinist
Son of the renowned French mezzo-soprano Pauline Viardot-Garcia (1821-1910), Paul Viardot studied under the famous violinist Hubert Léonard (1819-1890) at the Brussels Conservatory. He toured extensively in Europe and was the dedicatee of Gabriel Fauré's first Violin Sonata (1875-1876) and the Berceuse (1871) by Camille Saint-Saëns.
Williams, Anna (1845-1924), soprano
Born in London, Anna Williams took first soprano prize at the 1872 National Music Meetings, held at the Crystal Palace. She quickly became a favourite on the festival circuit, appearing at Worcester (1878), Birmingham (1879) and Leeds (1880). She sang in the first performance of Elgar's The Light of Life (Worcester, 8th September 1896), joining the teaching staff of the Royal College and the Guildhall School in the same year.
Wynne, [Sarah] Edith (1842-1897), soprano
'The Nightingale of Wales', Wynne was born at Holywell and made her first London appearance in 1862. Entering the Royal Academy she won the Westmorland Scholarship in 1863, also singing in the first performance of George Alexander Macfarren's opera Jessie Lea at the Gallery of Illustration in the same year. At the concert of Sullivan's music given at St James's Hall on 11th July 1866 Edith Wynne participated in a performance of the duet In such a night as this from the Masque Kenilworth (1864). The following year she appeared at the Crystal Palace singing two songs from Sullivan's aborted opera The Sapphire Necklace, whilst on 22nd January 1876 she sang under Sullivan's direction at the opening of the Royal Aquarium, London. She also appeared at the 1870 Birmingham Festival and thereafter enjoyed a successful concert career before devoting her time to teaching. She died suddenly in London at the age of fifty-four. Sullivan dedicated his songs The Mother's Dream (1868) and Living Poems (1874) to her.
Page modified 6 August, 2011 Copyright © 2009 The Gilbert and Sullivan Archive All Rights Reserved.