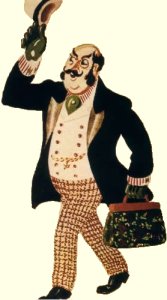 After the early and resounding success of their one-act opera Trial By Jury in 1875, Gilbert and Sullivan, and their producer Richard D'Oyly Carte, decided to produce a full-length work. Gilbert expanded on one of his earlier writings based on a favourite operatic theme to create a plot about a magic love potion that would result in everyone falling in love with the wrong partner.
The Sorcerer was first produced at the Opéra Comique, a charming little theatre in the Strand, on November 17, 1877. The original run of the piece was a satisfactory 175 performances, enough of a success to encourage Gilbert & Sullivan to continue to collaborate, which led to their next piece, H.M.S. Pinafore. And the rest, as they say, is history.
The Sorcerer was revived, along with Trial By Jury in 1884 at the Savoy Theatre. For this revival, Gilbert and Sullivan revised the ending of Act I and the opening of Act II.
For much of the 20th century, The Sorcerer was performed less frequently than many of the operas. It was restored to the D'Oyly Carte Opera Company's repertoire in 1971 after an absence of many years and it has now joined the regular rotation of G&S operas for most G&S performing groups.
The Sorcerer satirizes early Victorian customs and various theatre devices. These themes may be less accessible to first-time audiences than some of the other G&S operas. In addition, the piece shies away from the political satire that helps to make many of the other G&S operas funny.
Page modified 24 April 2015 Copyright © 2008-15 The Gilbert and Sullivan Archive All Rights Reserved